(Posted March 16, 2018)
Zach Stevenson brings Buddy Holly to life on Shenkman Centre stage
By Fred Sherwin
Orléans Online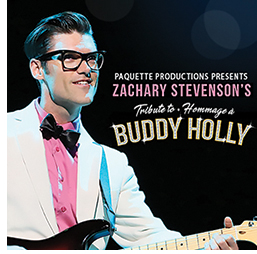 Buddy Holly tribute artist Zachary Stevenson performs the Everly Brothers hit Bye, Bye Love with his wife and partner Molly Denninghoff. Fred Sherwin/Photo
Fans of the late Buddy Holly got to rave on to his many hits on Friday, March 16, performed by Vancouver native and award-winning tribute artist Zachary Stevenson who delivered a memorable performance at the Shenkman Arts Centre.
Stevenson hit the stage in a bright red dinner jacket, wearing a pair of horn-rimmed prescription glasses that were Holly's trademark, and raced through three of his greatest hits Peggy Sue, Oh Boy!, and Maybe Baby.
Having played the lead role in more than a half-dozen productions of The Buddy Holly Story, Stevenson has the rockabilly legend down to a tee from the stuttering falsetto in his voice to the electric twang on his Fender Stratocaster.
Besides the many Holly classics, Stevenson sang a couple of Richie Valen songs, Diana by Ottawa's own Paul Anka. Summertime Blues by Eddie Cochrane, Kansas City by Fats Domino, and Teenager in Love by Dion and the Belmonts.
The highlight of the evening came when Stevenson invited his wife and partner Molly Denninghoff to join him on stage to sing a couple of Everly Brother classic. "We're the Everly Lovers," Stevenson joked before the couple broke into All I Have To Do Is Dream and Bye, Bye Love.
The pair met while performing in The Buddy Holly Story together in Kansas City.
Stevenson is a consummate showman who is able to establish an immediate rapport with his audience. He's also one heck of a guitarist with an equally talented group of back-up musicians. The saxophonist was especially tight.
Among the set list was such Buddy Holly classics Everyday, Not Fade Away, Words of Love, and True Love Ways.
If you missed the show, fear not, Stevenson will be returning to the Shenkman Arts Centre on June 12 as part of a Legends show featuring Elvis tribute artist Dean Z; Pete Paquette, who will be performing hits from the 50s and 60s; and The Tonettes, who will be perfoming a selection of Motown hits by female groups like the Supremes, Martha and the Vendellas, and Gladys Knight and the Pips.
For more informartion visit www.paquetteproductions.com/shows
(This story was made possible thanks to the generous support of our local business partners.)