In concert with your life

Welcome to Symphony Senior Living Orléans, a full service retirement residence where the emphasis is on comfort, security and peace of mind.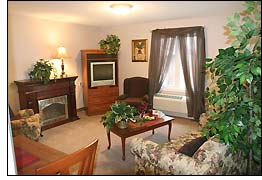 When you come to live at Symphony Senior Living Orléans, a whole new life will open up for you, a life that includes all the comforts that come with the ultimate in retirement living.
The residence is located in a quiet park-like setting in the heart of Orléans, where the staff is committed to providing each resident with excellent services based on their individual needs.
When you walk into the residence, you will be greeted with a warm and friendly smile. Whether it's assisting residents to make their favorite meal, or helping them with a recreational activity, Symphony Senior Living staff devote themselves to each and every resident.
At Symphony Senior Living their motto is, "In concert with your life". It is a concept they strive to fulfill every minute of every day. Symphony Senior Living residences offer their residents the luxury of choosing the type of care that meets their needs.
QUALITY OF SERVICE:
Enjoy family comfort with people who share your interests. To ensure their residents general well-being a medical doctor makes weekly visits to the Orléans residence and an RPN is on call 24 hours a day.
Symphony Senior Living staff also provide supervised dispensing of medication, weekly assisted baths, regular daily and nightly room checks and access to oxygen, pharmacy services and medical therapy supplies.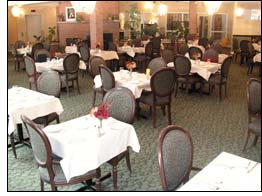 Symphony Senior Living Orléans will remind you of a five-star restaurant with its modern furnishings including overstuffed chairs with armrests. The resident Chef selects the freshest of nature's bounty, prepares it to perfection, and takes pride in presenting it elegantly at each sitting. Special nutritional needs are easily accommodated by the fully qualified kitchen staff.
Security is assured as the exterior doors are locked from nine o'clock every night. A safety call system is built into every suite and each room has at least two emergency call buttons. Residents can also feel secure knowing that there is a 24-hour health care service seven days a week.
Each room is also equipped with grab bars in each bathtub or shower. Handrails have also been installed in the hallways and the building is fully wheelchair accessible.
FREE TIME WELL SPENT:
The atmosphere at Symphony Senior Living Orléans is conducive to relaxation and rest, but residents interested in a more active and involved lifestyle have a wide variety of activities and programs at their disposal.
All efforts are made to make the residents' retirement years both enjoyable and stimulating. At Symphony Senior Living they truly believe that variety is the spice of life.
A recreologist assists residents in planning activities and keeps them informed of community resources and events. Whether you choose billiards, shuffleboard, bingo or cards, each new day can be as fun and fulfilling as the last.
Most of the activities are designed to get the residents to interact with each other. Spending time with friends is one of the greatest pleasures at Symphony Senior Living Orléans.
In order to meet the residents' spiritual needs the Paroise St-Joseph holds a French mass in the chapel every Wednesday afternoon and Sunday morning and a non-denominational English service the first and third Wednesday of the every month. Scheduled outings are also organized to the local shopping mall and other destinations.
COME FOR A VISIT AND STAY A WHILE:
To give you the opportunity to find out just how Symphony Senior Living Orléans offers the ultimate in retirement living, prospective residents can spend a leisurely visit at the residence before making a final decision providing a room is available.
So please don't hesitate to give them a call and book your visit.
Symphony Senior Living Orléans is situated at 6419 Lumberman Way in the east end of Ottawa. You can reach them by phone at 613-706-2699, or e-mail Orleans@SymphonySeniorLiving.com.
For more information about Symphony Senior Living Orléans and the many other Symphony Senior Living retirement communities in Ottawa and elsewhere in Ontario visit www.symphonyseniorliving.com/communities/orleans.