If you're an audio-visual buff, or just someone who wants to upgrade their home entertainment system with the latest in audio and visual technology then you need to visit the Sound & Sight showroom on St. Joseph Blvd.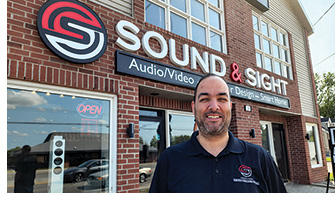 Jason Miller is the owner and operator of Sound & Sight Audio/Visual on St. Joseph Blvd.
Sound & Sight is the premier home entertainment and Smart Home technology store in the east end, bar none. The store is locally owned and operated by Jason Miller who has over 30 years experience in the audio-visual and home entertainment industry.
Jason can help turn your audio-visual dreams into reality by working with you in developing a concept, coming up with the design elements and putting all the pieces in place. It all starts with Jalila Elleuch, Sound & Sight's resident interior designer. Jalila has the vision and creativity to turn any space into an audio-visual dream space by balancing the visual with the functional.
Jason's main area of expertise is on the product side of things – from multi-room sound systems to state-of-the-art home theatre set ups – he can turn your home into a Sound & Sight oasis.
They carry all the leading brands of audio visual equipment including Samsung, Sony, Harmon Kardon, Mission and Sonos, along with some leading brands you may not be familiar with such as JL Audio; Totem speakers, which are made in Montréal; and Lexicon amplifiers.
Beyond the audiovisual, Sound & Sight also equip your home with all the latest Smart Home technology including motorized blinds, security and surveillance systems, Smart Home HVAC controls, lighting controls and home networking systems. And they are also a licensed dealer for Panasonic and Human Touch massage chairs.
As you can see, Sound & Sight is more than just an audio visual store.
To get a taste of all they have to offer visit their website at soundsight.ca which has several links to videos that are bound to spark your imagination. You can also visit their Facebook page @soundsight.ca.
But if you want to take advantage of their ongoing special deals and pricing on everything from flat screen TVs to sound bars and speakers, you need to visit their showroom at 2688 St. Joseph Blvd. at the corner of Orléans Blvd. across from the TD bank.