Identity of young cyclist struck and killed by motorist released
By Fred Sherwin
July 25, 2019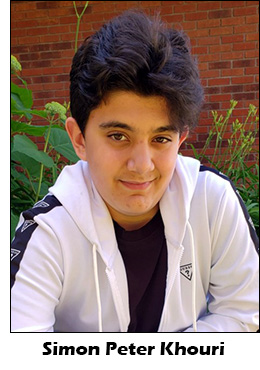 The identity of the 13 -year-old boy who was struck and killed by a car while crossing the Hwy. 174 westbound on ramp at Jeanne d'Arc Blvd. has been released to the public.
Simon Peter Khouri was riding his bike with two friends shortly after 5 p.m. on Tuesday. The trio had just left the Bob MacQuarrie Recreation Centre where they had been swimming and were biking northbound along the sidewalk against the southbound traffic on Jeanne d'Arc.
They were just crossing the on-ramp to Hwy. 174 at the same time a man identified as Robert Ryan, 79, had turned onto the westbound on-ramp with intention of merging onto the highway.
In an interview with the Ottawa Citizen, Ryan said that he managed to avoid the first two cyclists before hitting Khouri with on the front passenger side of his car.
Khouri suffered catastrophic injuries as a result of the collision and was pronounced dead at the hospital.
No charges have been laid in connection with the incident.
Funeral services for Khouri will be held on Saturday at 9 a.m. at Saint Paul Syriac Catholic Church on Kilborn Place.
In an interview with CTV Ottawa, Khouri's father Bassil described his son as an intelligent young man who loved playing the drums and saxophone. He also said that his son was an avid cyclist since the age of three and knew the rules of the road. The family is deeply religious. In fact, Khouri was named after the apostle Simon Peter.
The two boys who witnessed the aftermath of the collision are said to be in shock.
The fatal accident along with a second non-fatal incident involving a cyclist and a motor vehicle in Barrhaven the same day has sparked a debate over bike safety in Ottawa and in particular, how crosswalks at on-ramps to Hwy. 174 can be made safer.
There are similar crosswalks at both the eastbound on-ramp on Jeanne d'Arc Blvd. and the westbound on ramp on Champlain Street.
(This story was made possible thanks to the generous support of our local business partners.)