The folks at Regimbal Promotion Ltd. have been producing trophies and awards in Orléans since 1996, but the company's storied history goes back more than 90 years.
The company's founder, Horace Regimbal, started out by repairing watches on the Byward Market in the early 20s, often times accepting fresh produce in exchange for his services.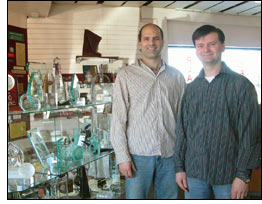 Luc Regimbal and Stephane Giroux. have been co-owners of Regimbal Promotion Ltd. since 1992. File Photo
The company patriarch eventually opened a jewelry store on Sussex Drive in 1928 with his wife Jeanne. The couple's three sons Jean, Jacques and Pierre took over the company in the 1960s and eventually branched out into the trophy business.
In 1992, Horace's grandson Luc took over the business with partner Stephane Giroux. By 1996 the company was flourishing and Luc and Stephane decided to open a second location on Youville Drive in Orléans to serve their growing clientele in the far east end.
Through the years, the business continued to grow. As the east end expanded so did Regimbal Awards & Promotions, and in 2014 they relocated to the Cantotek Business Park where they can now do embroidery and screen printing of T-Shirts and other apparel.
Regimbal Promotion Ltd. offers a full range of more than 1,000 different types and styles of trophies and plaques as well as hundreds of different promotional items including pins, keychains, mugs, silverware, clocks and pen sets.
With their state of the art equipment they can meet most any engraving need on premises including laser engraving, diamond engraving, rotary engraving, glass etching and silk screening.
The experience of four generations and the assurance of high quality items is what has made Regimbal Awards & Promotions Ltd. the company it is today.
Regimbal Awards & Promotions Ltd. is proud of its privileged position as one of the largest businesses of its kind in Eastern Ontario and Western Quebec.
"Our reputation for service and quality has opened many doors for us. We have a number of employees with more than 20 years of experience, who can offer expert service and quality assurance," says Luc Regimbal.
Regimbal Awards & Promotions Ltd. has produced hundreds of awards and trophies for minor sports teams in the east end and Orléans in particular. Chances are that cherished trophy your son of daughter has perched on their dresser, or graces your family mantle place, was produced by Regimbal.
The company is also the official supplier of trophies to the Orléans Chamber of Commerce Business Excellence Awards and the Orléans Online Outstanding Youth Awards.
For more information about Regimbal visit www.regimballtd.ca or drop by the store at 5369 Canotek Rd. in Gloucester Centre. They can also be reached by phone at 613-746-0983 or e-mail info@regimballtd.ca.