With roots in Orléans dating back to 1978, Grandmaitre Virgo Evans stands for quality legal services and a strong commitment to the community. Located on St. Joseph Boulevard between the Caisse Populaire Trillium and the Orléans Medical Centre, the firm is well known for its extensive real estate practice and also offers expertise in wills, powers of attorney, estates, estate planning and business law. The firm's five lawyers are supported by a dedicated and experienced bilingual team of support staff.
Brad Evans is the most senior lawyer at Grandmaitre Virgo Evans, having been called to the Bar in 1980. He and Gerry Dust (now retired) founded the Firm in the 1990s, as Dust Evans.
Brad's practice focuses on Wills and Estates and Real Estate law. He was recently certified by the Law Society of Upper Canada as a specialist in Estates and Trusts Law. This Specialist Certificate is granted to those lawyers in Ontario who have demonstrated to their peers a superior level of knowledge, expertise, and experience in the drafting of Wills and Powers of Attorney, estate planning, and the administration of estates. He is one of only two lawyers in the Ottawa area who holds this distinction.
As further recognition of his experience and expertise in Wills and Estates, Brad was awarded the 2018 International Advisory Experts award for Estate Planning in Canada. Over the years, Brad has contributed to the legal profession by presenting papers at continuing legal education events. Additionally, he has supported his community as past-chair of the Ottawa Mission and the Heart of Orleans BIA, and a Board Member of Arts Ottawa East.

Phil Grandmaitre is a partner at Grandmaitre Virgo Evans. He is fluently bilingual and practices in all of the Firm's core areas, including residential and commercial real estate, wills and powers of attorney, business law and estate planning and administration.
Phil started his career at the firm as a student in 2003, was called to the Bar in 2006 and became a partner in early 2011. He believes that client needs always come first and that good communication is the building block to fulfilling those needs. Phil also values giving back to the community that supports him. Currently, he is the President of each of the Navan Community Association, the Pioneer 3-Pitch League, the Navan Minor Ball League and Le Business Club d'Orléans and sits on the Board of Directors of the Montfort Foundation.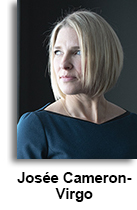 Josée Cameron-Virgo is a partner at Grandmaitre Virgo Evans specializing in business law, commercial real estate and commercial leasing. She started her career at Dust Evans in 2002 and after spending several years in the Ottawa office of a national law firm, focusing primarily on commercial leasing and real estate, she re-joined the Dust Evans Grandmaitre family in 2011.
Josée brings to the firm extensive experience in commercial leasing, transactions, corporate reorganizations and financing matters. She routinely acts on incorporations, asset and share transactions and purchases, sales and financings of commercial, residential, condominium and rural properties.
Josée also has substantial experience advising on corporate governance and drafting co-ownership agreements, shareholder agreements, family trusts and wills. Josée routinely works with accountants, business owners and brokers. She believes in a team approach and will work with her colleagues to ensure that the best result is achieved for her clients.
Dust Evans Grandmaitre supports many community endeavors, including the Orleans Cumberland Community Resource Centre's Community Caring Club, Orléans Chamber of Commerce, Business Club d'Orléans, Navan Community Association, Shenkman Arts Centre and the OutCare Foundation.
Dust Evans Grandmaitre est un cabinet bilingue. Ils sont fiers de vous offrir une gamme de services juridiques dans la langue officielle de votre choix. Pour de plus amples informations sur nos services, veuillez visiter note site web au gvelaw.ca.
For more information on the services that we provide, please visit our website at gvelaw.ca or call us at 613-837-1010.