A welcome addition
to Orléans!

Since first launching their barbecue catering business in 2012, brothers Mat and Joey Flosse and their team of fellow grill masters have quickly gained a reputation for delivering the very best in southern-style barbecue for events both large and small.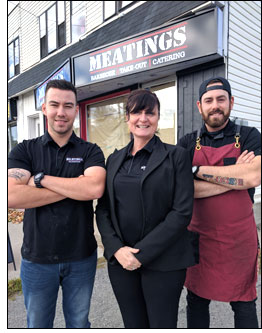 Meatings co-owners Joey Flosse, Carole Hunt, and Matt Flosse stand outside their new restaurant on St-Joseph Blvd. Fred Sherwin/Photo
While a majority of their business is wedding receptions, Meatings also caters to corporate events, back yard parties, community events and festivals.
Famous for their meat, Meatings is expert at smoking and grilling. All of their meat is sourced local from farms through the Ontario region. Same goes for their produce and their freshly baked buns and desserts which are provided by Top of The Hill Bakery in Orléans.
Whenever Meatings caters an event, their clients and the guests usually tell them the same thing... "You guys should open a restaurant so we can eat your food all the time."
Not ones to pass up an opportunity when it presents itself, Mat and Joey found a space on St-Joseph Blvd. just east of St-Joseph Church and have spent the past seven months converting it into Orléans only traditional smokehouse restaurant.
Located at 2807 St. Joseph Blvd. between Place d'Orléans and the St. Joseph church, Meatings is a great place to meet your friends and enjoy the very best Pulled Pork Sandwiches, Smoked Brisket and Ribs, or a 1/4 chicken. They also have a variety of sides like mac and cheese, smoked beans, corn bread, slaw and grilled corn-on-the-cob.
The exciting venture of the restaurant opening has brought many challenges, all met with energy and devotion to detail. The décor is warm and inviting, a true barbecue feel. Although taken a little longer to open than anticipated, the wait has definitely been worth it!
While maintaining a high standard of professionalism, Meatings differs from other food service providers by their "cater-tainment" approach to cooking. More than just filling your belly, Meatings prides itself on service, food and their staff.
Meatings offers a selection of beers from local craft breweries & local wineries, provides event rentals, DJ services, bartenders, outdoor games and everything you need for a fully-catered party experience.
Your guests will be thoroughly entertained by the "wow factor" and Meatings friendly staff will gladly answer any questions you or your guests might have along the way about the cooking process along the way. At Meatings they guarantee that your party will be a "Meating" to remember!
Call the crew at Meatings at 613-407-8788 today to set up a consultation or drop by the restaurant at 2807 St-Joseph Blvd. You can also visit their website at http://meatings.ca/.