The first step to become a school bus driver for ML Bradley Ltd. is to fill out an application. Once you fill it out attach it to your resumé and either drop it off at our office on Frank Kenny Rd., or mail it to ML Bradley Ltd., P.O. Box 70, Navan, Ontario K4B 1J3.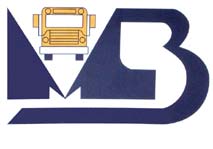 Once your application is received, it will be assessed and a background check will be done, including criminal record
and drivers' abstract searches.
Successful applicants must then pass a Ministry written test before training begins. The test is made up of 60 multiple choice questions. All new hires are given three handbooks to study from. The Ministry also requires the results of a current medical exam. This is the only cost incurred by trainees. A TB test is also required by the school boards.
When the written test is completed, the classroom and on road training begins. The training period usually takes three to four weeks of mornings or afternoons. The training involves learning the pre-trip inspection, learning to drive a large vehicle and all of the school bus procedures. There is also a one day school bus driver improvement course.
Once the trainee is ready, he or she must pass the driver test conducted at ML Bradley. We are a recognized signing authority by the MTO.
Upon successful completion of the driver's test, all candidates must go to the Ministry office on Walkley Road to take a vision test and receive their temporary Class B driver's license.
The final step involves driving a bus with children on board under the supervision of the trainer or a senior driver. When all of this is completed to the satisfaction of the company, the trainee is ready to drive a school bus on their own.
For more information on ML Bradley Ltd. click here.