If you are fortunate in life you will meet people who will have a profound impact on you. For me, it was two young women who I met totally by chance in Cuba in June 2019.
Charlotte and Bente were two college students from the Netherlands who possessed more wisdom in their little finger than adults more than twice their age. We had a number of deep conversations, mostly about relationships, that made me rethink the one I was in at the time – all for the better. We made an instant connection that was completely unexpected given the differences in our ages.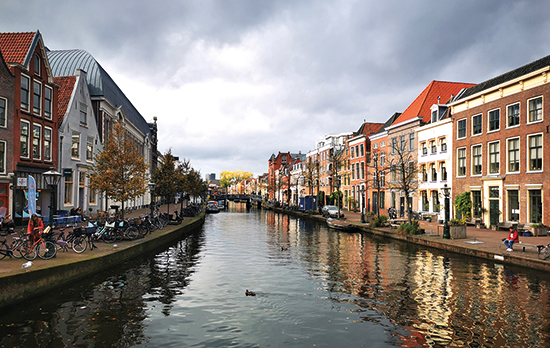 Scene along one of the many canals in Leiden. FRED SHERWIN/PHOTO
In 2020, my two boys had planned to visit Europe for the summer before their plans were kiboshed by the pandemic. They planned to go again this past summer but had to postpone their plans once again. I was going to go with them to visit Charlotte and Bente and meet their families, but I had to postpone those plans as well.
It wasn't until the Netherlands eased their COVID-19 restrictions for fully-vaccinated visitors, and Canada did as well for returning residents, that I decided to use some of the Aeroplan points that had been burning a hole in my pocket to visit the country.
The plan was to spend a couple of days in Amsterdam before taking the train to Rotterdam to meet the girls.
I spent my first day in the popular tourist destination walking along picturesque canals and visiting the Albert Cuyp Market where I tried a stroopwaffel for the first time. (I tried a number of other Dutch delicacies during my visit including pickled herring, kibbeling and kapsalon. The latter of which needs to tried to be fully appreciated.)
On day two, I went to the famous Rijksmuseum which was, quite frankly, overwhelming. There was so much to see and take in, including masterpieces by Rembrandt, Vermeer and Van Gogh, that I quickly developed sensory overload.

After my visit to the museum, I checked out of my hotel and headed to Rotterdam, which is where my trip really began.
When you meet people on a vacation, es-pecially at a resort, you're never sure whether it was the unlimited drinks and intense sun that made the experience memorable, or you actually formed a lasting friendship. In the case of Charlotte and Bente, it turned out to be the latter. As an added bonus I got to meet their roommate Sarah in Rotterdam, who is amazing in her own right. All three girls have boyfriends who I was able to meet along with Charlotte's parents.
Ben took me on a tour of Leiden, which is located about 30 minutes from Rotterdam by train, where she went to school. I got to meet her former roommates, have a glass of wine overlooking one of the canals, visit the botanical garden where curious visitors lined up to take a picture of a penis plant. Not a word of a lie, that's what it's called. It blooms once every 25 years and it's been the subject of countless stories including a feature story on CNN.
We ended our visit with dinner at a place called The Bishop which is 110 years young. I say "young" because most of the places I visited were much older. I went to a distillery in Amsterdam which you can read about on page 10, where the tasting room was founded in 1681, and the Nieuwe Church in Delft was first erected in 1373. (FYI The old church, which is still standing was erected in 1246.)
Delft is also extremely picturesque and a definite must see if you happen to visit the Netherlands. Besides old churches it is also the birthplace of Johannes Vermeer whose most famous works include "Girl with a Pearl Earing" and "The Milkmaid".
Once back in Rotterdam, I visited the Rotterdam Zoo with Sarah who was extremely gracious and funny as hell.
Rotterdam was a massive surprise. I had no idea what to expect except for what I had read on Wikipedia. The heart of the city had been almost completely destroyed by German bombers in 1940 and was rebuilt during the 50s, 60s and 70s.
During the 1990s, an emphasis was placed on more modern architecture to the point where today it is recognized as one of the most modern cities in Europe. Unlike many other cities in the Netherlands, it doesn't have a lot of canals and the main streets are wide thoroughfares with dedicated bike lanes.
The city is home to a number of museums and art galleries including the Kunsthal which is currently hosting an exhibit by the Group of Seven, the Netherlands Fotomuseum and the Dutch Pinball Museum which I visited with Bente. The latter is home to over 100 vintage pinball machines, many of which you can play with the price of admission. I was even allowed to play the oldest mechanical pinball machine in the collection built in 1947. But as cool as that was, it didn't compare to watching Ben play pinball for the very first time.
The bike parking lot outside the train station in Amsterdam. FRED SHERWIN/PHOTO
One of the things I will takeaway from my trip are the sheer number of bikes in the country. We like to think of Ottawa as a bicycle-friendly city, but holy-moly, there is no comparison. The bike parking lot at the Amsterdam train station has room for thousands of bikes. The same is true in Rotterdam and every other city in the Netherlands. Bikes are everywhere.
But my other favourite thing about Rotterdam were the electric scoooters. They are everywhere and they cost 30 cents per minute to use. You simply need to download the app for one of the three rental companies, or all three, upload a photo of your driver's license and credit card info and away you go.
My biggest takeaway from my trip is the time I was able to spend with Bente, Charlotte and Sarah – three amazing young women who have extremely bright futures.
A lot of people my age, and adults in general, tend to make the mistake of dismissing the younger generation as being lazy, self-absorbed and unworthy of our attention, which is an absolute shame. In-stead of dismissing them, we need to listen to them. There's a lot we can learn.
During my last day in Rotterdam, Charlotte asked me what I was going to take away from my visit. At first I thought she was talking about all the experiences I had, but she clarified her question by asking me if I had learned anything about myself during the trip. "Every trip," she said, "should be a journey of self-discovery." How mind-blowing is that?
At first, I couldn't answer her. It took me several days of soul searching before it finally came to me. The relationship I formed with the three girls made me question the relationship I had with my own daughter.
It came to me while I was driving the car and acknowledged to myself that I had been a flawed father by not doing enough to make Maggie feel special while she was growing up, especially after her mother and I separated.
After my epiphany, Maggie and I had a coffee together and I apologized for failing her as a father. There were a lot of tears, but it was a massive breakthrough moment for both of us, and for that I have to thank three young women from the Netherlands who I will cherish forever.
There's a Dutch word – gunnen – which I learned from the girls that matches what they did for me.
I plan to head back in July with my two boys and visit a few places that I didn't get a chance to visit this time around like Utrect, Harlaam and Friesland. At the same time, Maggie will go to England where I will join her for a week of touring museums and the other popular tourist locations.
Until then, I have to replenish all the Aeroplan points I used up for my visit to the Netherlands and suffer through another long cold Canadian winter.
(If you wish to comment on this or any other View Point column please write to Fred Sherwin at fsherwin@orleansstar.ca)