Senior Girls Basketball Lady Rebelles lose title game in heartbreaking fashion
By Fred Sherwin
Nov. 18, 2019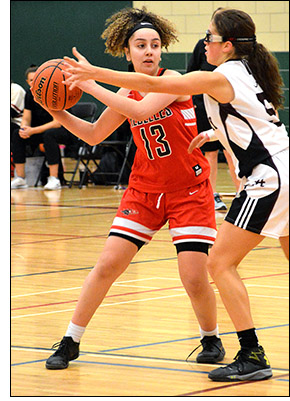 The Louis Riel Rebelles came withon a blocked shot of beating the undefeated Ashbury Colts in the NCSSAA senior girls Tier 1 championship. FRED SHERWIN PHOTO
In what was one of the most topsy-turvy, turnover filled, poor shot-making championship games in recent memory, the Louis Riel Rebelles came within a blocked shot of forcing the Ashbury Colts into overtime in the senior girls Tier 1 final on Tuesday.
As it was, the last gasp attempt to tie the score was swatted out of bounds just as the final buzzer sounded and the Rebelles hopes of upsetting the number one seed was swatted out of bounds with it.
A little over an hour earlier the Rebelles looked unbeatable as they jumped out to 21-10 first quarter lead. The Colts barely shot 30 per cent during the first eight minutes of the game while everything the Rebelles threw up seemed to go in the basket. And we're not talking about jump shots here, almost every shot was made on a wing and a prayer. Layups from the hip and even lower somehow managed to find the net.
The Rebelles magic touch soon wore off in the second quarter, however. After scoring 21 points in the first quarter they could only manage to score four points in the second stanza. Meanwhile, the Colts went on 15-4 run to tie the game at the half.
Ashbury eventually took the lead three minutes into the third quarter but they couldn't create any separation and the Rebelles managed to tie the game on a three-point shot at the end of the quarter.
The outcome rested on which team would be able to make the key shots in the final quarter. For the first six minutes it looked for all the world that the Colts would pull away, but each time they established a three- or four-point lead, the Rebelles responded with a timely basket to remain in contact.
The Colts didn't help their cause by missing some key free throws down the stretch, including the last of two foul shots in the final seconds that would have put the game out of reach. Instead, it gave the Rebelles one last hope which ended up getting blocked and swatted out of bounds to end the game.