Two teams with the Ottawa TFC Soccer Academy have advanced to the quarterfinals of the Ontario Cup. Both of the Academy's boys and girls U17 squads will see action in the provincial tournament which resumes in various locations this weekend.
The U17 girls team squeaked into the quarterfinals based on their goal differential during the group stage of the tournament.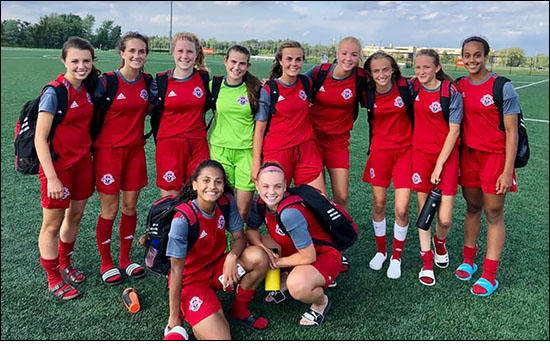 After winning their first two games over Aurora FC (7-0) and the Burlington Bayhawks (5-0), the Ottawa team, which includes a number of players from the Orléans area, had to beat or tie West Ottawa, which also had wins over Aurora (4-0) and Burlington (6-0).
As fate would have it their July 13 showdown ended in a hard fought 0-0 draw which meant Ottawa TFC advanced to the quarterfinals thanks to a two goal advantage over West Ottawa.
Their opponents in the quarterfinals will be Kitchener FC. The game is scheduled for 2 p.m. in Kitchener.
Like their female clubmates, the U17 boys team also advanced to the quarterfinals of the Ontario Cupo based on goal differential.
After tying the Ajax FC Red team 0-0 in their opening game of the tournament on July 12, Ottawa TFC beat the Oshawa Kicks Red team 3-0 the next day.
In their group finale on July 13, they beat the Oakville Wild 5-0 to give themselves a +8 goal differential. Ajax also earned wins over Oshawa ansd Oakville but they only scored three goals in the process.
The boys team will face the Vaughan Azzuri in the quarterfinals in Vaughan on Sunday.
The Ottawa Gloucester Hornets will also have a team competing in the quarter-finals. The club's U14 girls side earned three clean sheets in going undefeated in the group stage.
After opening the tournament with a 1-0 win over Oakville SC, the Ottawa Gloucester Sting beat Darlington 8-0 and then downed Glen Shields 2-0 to punch their ticket to the quarterfinals whre they will face Windsor TFC in Windsor on Saturday.
(This story was made possible thanks to the generous support of our local business partners.)