Cumberland running back named MVP in Jr. Gee-Gees bronze medal run
By Fred Sherwin
July 26, 2019
Cumberland Panther running back Khalid Campbell wrapped up an impressive showing at the Football Quebec Team Nike XL Challenge held earlier this month with an MVP performance in leading the Ottawa Jr Gee-Gees U15 team to the bronze medal.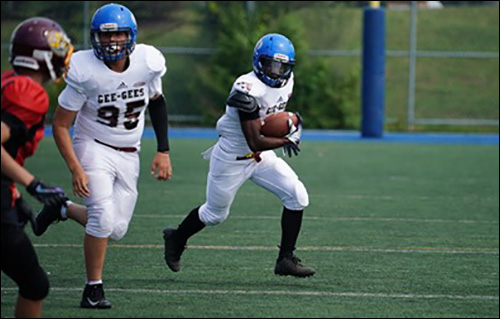 Campbell ran for 354 yards on 14 carries and scored four touchdowns in a 38-6 win over RSEQ Monteregie. His longest TD run was a 95-yard scamper in the third quarter. He also caught two passes for 23 yards and returned a pair of punts for 68 yards for a total of 445 combined yards on offence. He also made four unassisted tackles on defence.
The U15 team kicked off the tournament with a 30-6 win over the Metropolitaine and Campbell put everyone on notice with a 181-yard, three touchdown performance.
In Game 2 they suffered a tough 42-18 loss to the Monstars, but Campbell still managed to score all three of his team's touchdowns while gaining 297 total yards. He would end the tournament with 783 yards and nine TDs in three games. The next closest running back had 349 yards.
The U15 team is an all-star squad put together by the National Capital Amateur Football Association (NCAFA) with the express purpose of playing against some of the best teams in Quebec in the Team Nike XL Challenge. Before entering the tournament they played a series of exhibition games with mixed results.
NCAFA were also able to field a U17 team. After losing their first two games in the tournament, they managed to knock off the Outaouais to avoid being swept. Former Panther Colin Doherty caught nine passes for 175 yard including a touchdown reception late in the fourth quarter. The man who threw him all those passes was Connor Vanasse who ended the game with 15 completions for 311 yards and three TDs.
(This story was made possible thanks to the generous support of our local business partners.)