It's been less than a year since the TRYumph Gymnastics Academy opened its doors next to Cosmic Adventures on Ogilvie Road. In that short period of time, they have produced some eyebrow-raising results including three top 10 results at the recent provincial championships in Amhertsberg.
The gym was the brainchild of partners in life, Alina Florea and Paul ApSimon. Florea is a former Romanian gymnast who coached in Romania from 1993-1999. Florea is a former coach of Olympic gold medalist Andrea Raducan. ApSimon is the current head coach of he Canadian women's foil team. Together, they launched the TRYumph Gymnastics Academy on July 16, 2018.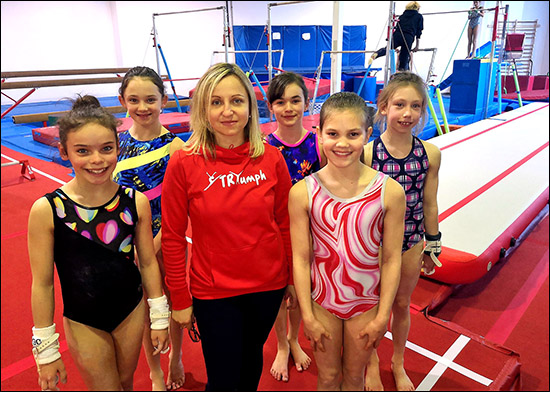 TRYumph Gymnastics co-owner and head coach Alina Florea is surrounded by some of her students at the Ogilvie Road gym. FRED SHERWIN PHOTO
The academy has both recreational and competitive gymnastics programs as well as a trampoline and tumbling program, a fencing program and a program for budding ninjas.
To help teach their members, the academy employs three full-time and eight part-time coaches.
The recreational gymnastics program starts with Gigglenastics for infants up to 18 months of age. The program aids in the development of their balance and motor skills through stimulus recognition and response activities with the assistance of a caregiver.
Other pre-recreation programs include parent and tot session for toddlers from 18 months to three-and-a-half years old and a Kinder Gym program for kids from three and a half to five-and-a-half years old.
The girls and boys recreation program follows a multi-level system that runs from beginner to advance. There are also recreation programs for teens and adults.
The tumbling and trampoline program is also taught at the recreational level for kids six years and over at three different levels of aptitude.
The acrobatic program enhances balance, co-ordination and agility while developing posture and confident body movement. It's a great class for kids who want to share the thrill of performing balances, flips and twists with their friends.
Perhaps the most exciting program at the TRYumph Academy is their Ninja program which combines elements of both gymnastics and parkour with an obstacle course – American Ninja Warrior style. The program already has more than 100 members and is growing every day.
Last, but by no means least, the Academy has a fencing program led by ApSimon himself who is a former national team member and 3 time Olympic coach. There are currently 30 members in the fencing program, which starts at the introductory level and moves up through the Canadian Fencing Federation armband levels.
For those people who are on the fence about fencing (no pun intended) or gymnastics, the Academy will be running a series of summer camps this year for both disciplines as well as the Ninja Zone. You can check out the various options by visiting their website at www.tryumphgymnastics.ca.
(This story was made possible thanks to the generous support of our local business partners.)