Michael O'Connor is somewhat of a rarity in professional sports – he is a Canadian quarterback who has a legitimate shot at one day playing in the Canadian Football League at his favourite position.
The Orléans native recently took part in the CFL combine where he earned rave reviews for his immense talent, his poise and his football IQ.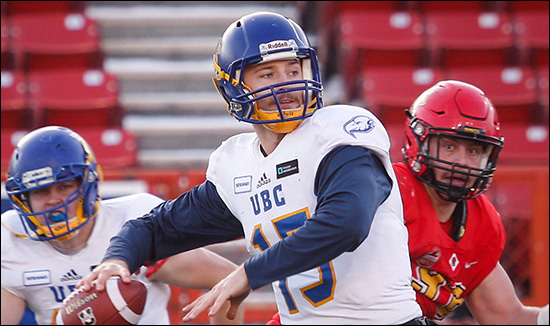 The combine is held every year in the lead up to the CFL draft to give teams a chance to meet potential prospects face-to-face and ask them questions about everything from Xs and Os to possible issues in their personal lives.
O'Connor was a busy man at the combine, sitting down with six different teams. That's a lot for any prospect and is usually indicative of first or second round pick.
For his part, O'Connor made the most of the opportunity to express his love and commitment to the sport.
"I went into it with a mission to show the teams a little bit more of my person- ality, how passionate I am about football and the type of person that I am," O'Connor said in a recent interview with the Orléans Star. "I think I really did that, the teams got to know me better on a more personal level."
O'Connor has spent the last four years at the University of British Columbia where he led the UBC Thunderbirds to the 2015 Vanier Cup as a freshman.
In the three years since reaching the pinnacle of Canadian college football, O'Connor and his Thunderbird teammates lost to the University of Calgary Dinos in twice the Western Conference champ-ionship in 2016 and 2017 by less than four points, and this past season they lost their opening playoff game in overtime.
The defeats not only made O'Connor appreciate the Vanier Cup win that much more, they made him appreciate the sport on a much deeper level.
O'Connor began his football career with the Orléans Bengals Football Club where he led the peewee team to the 2009 NCAFA A-Cup championship. Two years later, he led the bantam squad back from the brink of defeat to win the B-Cup semi-final despite having to play with a fractured hand.
He ended up sitting out the final, but he did return to the field two weeks later to lead the Ashbury Colts to the Conference of Independent Schools Athletic Association provincial championship.
In 2012, O'Connor headed south of the border where he played ball for a prep school in Chattanooga, Tennessee. That same year, he was recruited by the IMG Academy in Florida where he played his final year of high school eligibility in 2013.
In 2014, several Division 1 schools expressed an interest in O'Connor's services. He eventually signed a letter of intent to play at Penn State, where he was red-shirted in his freshman year. During the off-season the coach who had recruited him left for another school and O'Connor was left facing three years as a back-up.
Rather than allow himself to be rele- gated to holding a clipboard for three years, O'Connor decided to transfer to UBC where he would become a starter in year one. The rest, as they say, is history.
O'Connor's dream is to play quarterback in the CFL, a position predominately reserved for Americans. But there are exceptions. Brandon Bridge started for the Saskatchewan Rough Riders last year and is the odds-on favourite to do so again this year. And O'Connor's Regina Rams rival, Noah Picton, recently signed a three-year contract with the Toronto Argonauts after going undrafted last year.
There are several examples of guys who played quarterback in university and were converted to another position after being drafted. The most notable is Ottawa Redblacks receiver Brad Sinopoli who won the Hec Creighton Trophy in 2010 as a quarterback for the University of Ottawa Gee Gees.
But O'Connor is under no illusion that he might follow in Sinopoli's footsteps.
"It's funny you ask that," O'Connor told the Star. "One of the teams at the combine asked me if I would be willing to try out as a receiver if I didn't make it as a quarterback and I told them you want me as your quarterback. Trust me, I don't have the hands to be a receiver."
At 6-foot-4 and 225 lb., O'Connor is a classic drop back passer with an above average throwing arm and an above average football IQ.
"I rely on my knowledge of the game and my ability to read defences," said O'Connor.
If the CFL doesn't work out for him, O'Connor could still pursue his gridiron dreams south of the border with the new Alliance of American Football league or the proposed XFL. But without a doubt, Plan A is earning a spot in the CFL.
"That's the dream," says O'Connor.
(This story was made possible thanks to the generous support of our local business partners.)