Track & Field
East end athletes shine at high school track and field championships
By Fred Sherwin
Orléans Online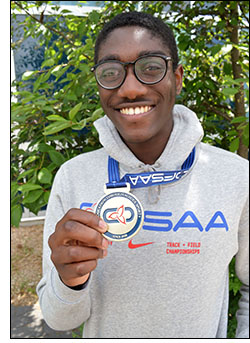 Gisèle-Lalonde hurdler Leewinchel Jean easily won his two events at the National Capital high school track and field championships last week. File photo
East end athletes won 20 events at the National Capital high school track and field championships last week, including three team relays.
For the second year in a row, École secondaire Louis-Riel led the way among the east end schools with nine first place finishes. Gloucester High School and St. Peter High School won three events each; Gisèle-Lalonde and Sir Wilfrid Laurier Secondary School won two each; and Colonel By and St. Matthew each won one event.
The Louis-Riel team was led by Grade 10 student Kadiatou Wann who was a double event winner in the junior girls high jump and triple jump, and placed second in the 80-metre hurdles. She also helped Louis-Riel win the junior girls 4x100 relay, along with teammate Kayla Vieux, who won the junior girls 100-metre sprint.
Eliezer Adjibi won the senior boys 100-metres; Mahad Ali won the senior boys 400-metres and came second in the 800; Dyovany Jeudy won the senior boys triple jump; and Caroline Poirier defended her senior girls pole vault title.
Sir Wil's Michel Nganbe was a double event winner in the junior boys long jump and javelin, and Gisèle-Lalonde hurdling specialist Leewinchell Jean doubled up in the junior boys 100m and 300m hurdles.
Jean turned in one of the most impres-sive performances of the day, winning the 300-metre hurdles by more than two and half seconds over Bell High School's Kevin Adeli.
St. Peter High School was well-represented by Katie Newlove who won the midget girls 1500-metres and placed second in the 3,000, and football standout Jonathan "The Jet" Agette lived up to his nickname by winning the senior boys 100-metre sprint.
Other event winners include Glou-cester's Jordan Hicks and Sophie Barber in the midget and senior girls javelin respectively; Chris Guessan from St. Matthew in the senior boys long jump, and Brianna Lu from Colonel By in the junior girls triple jump.
André Alie-Lamarche from Glou-cester won the open boys 2,000-metre steeplechase and placed third in the senior boys 3,000-metres.
Other performances of note include a pair of second place finishes by Louis-Riel's Mathieu Rostom in the midget boys 200- and 400-metres; Colonel By's Stuart Jones second place finishes in the junior boys 800- and 1500-metres; and Erika Johnson, also from Colonel By, placed second in the junior girls 800-metres and high jump.
Former St. Matthew standout Keira Galloway easily won the senior girls 100-metre hurdles competing for Glebe Collegiate and placed second in the 100-metre sprint. The reigning OFSAA provincial champion in the hurdles crossed the finish line in 13.67 seconds, two and half second ahead of her nearest rival.
In total, 48 area athletes managed to qualify for the OFSAA East Region championships being held at the Terry Fox Athletic Facility later this week by finishing among the top five in their event.
Louis-Riel will have the largest contingent with 12 athletes competing at regionals followed by Colonel By with 11. Sir Wilfrid Laurier will be sending six of their athletes to the meet; followed by Gloucester High School with five; St. Peter, Gisèle-Lalonde, and Beatrice-Desloges with four each; and then St. Matthew and Cairine Wilson with one apiece.
A complete list of the east end athletes who qualified for the next week's OFSAA East Region meet can be seen below...
Midget Boys
100-metres 5th (12.13) Preston Wells, Cairine Wilson
100-metres 6th (12.13) Zachary Bryant, Gisele-Lalonde
200-metres 2nd (24.41) Matthieu Rustom, Louis-Riel
200-metres 4th (24.74) Preston Wells, Cairine Wilson
400-metres 2nd (53.15) Matthieu Rustom, Louis-Riel
800-metres 3rd (2:10.28) Matthieu Rustom, Louis-Riel
1500-metres 4th (4:39.77) Thomas Pollock, Louis-Riel
3000-metres 6th (10:30.47) Thomas Pollock, Louis-Riel
100-metre hurdles 2nd (16.13) Nicholas Cooper, Colonel By
100-metre hurdles 6th (16.92) Zachary Bryant, Gisele-Lalonde
High Jump 4th (1.60m) Noah Massena, Louis-Riel
Long Jump 2nd (5.79m) Maxime Déry, Beatrice-Desloges
Triple Jump 2nd (12.19m) Noah Massena, Louis-Riel
Shot Put 7th (11.08m) Justin Bercier, Gisele-Lalonde
Discus 5th (30.46m) Jayden Chamma, St. Peter
Discus 7th (28.01m) Jason Tao, Colonel By
Javelin 5th (34.53m) Aidan Blake, SWL
Junior Boys
100-metres 1st (11.41) Jonathan Agette, St. Peter
200-metres 3rd (23.47) Jonathan Agette, St. Peter
200-metres 7th (24.60) Kirk Jean-Baptiste, St. Peter
400-metres 7th (57.96) William Wang, Colonel By
800-metres 2nd (2:09.13) Stuart Jones, Colonel By
800-metres 7th (2:15.87) William Wang, Colonel By
1500-metres 2nd (4:31.08) Stuart Jones, Colonel By
1500-metres 3rd (4:35.25) Will Cox, Colonel By
1500-metres 9th (4:44.48) David Zhu, Colonel By
3000-metres 2nd (10:05.72) Will Cox, Colonel By
3000-metres 5th (10:36.90) David Zhu, Colonel By
3000-metres 6th (10:45.79) Stuart Jones, Colonel By
100-metre hurdles 1st (13.93) Leewinchell Jean, Gisele-Lalonde
300-metre hurdles 1st (40.34) Leewinchell Jean, Gisele-Lalonde
300-metre hurdles 6th (46.54) David Zhu, Colonel By
High Jump 5th (1.55m) Adam Wei, Colonel By
Long Jump 1st (6.51m) Michel Nganbe, SWL
Shot Put 3rd (12.32m) Kenneth Lowther, Béatrice-Desloges
Shot Put 4th (12.14m) Nicolas Perrier, Gisele-Lalonde
Shot Put 6th (10.88m) Bryan Sun, Colonel By
Shot Put 8th (10.58m) Jeffrey Ben, Colonel By
Discus 2nd (40.27m) Sébastien Tremblay, Béatrice-Desloges
Discus 4th (34.40m) Bryan Sun, Colonel By
Discus 5th (33.36m) Camden McCaffrey, Colonel By
Discus 7th (28.83m) Kenneth Lowther, Béatrice-Desloges
Javelin 1st (45.60m) Michel Nganbe, SWL
Javelin 3rd (44.64m) Oliver Denis, Gloucester
Javelin 5th (42.05m) Bryan Sun, Colonel By
Javelin 6th (39.85m) Brayden Chamma, St. Peter
4x100 Relay 1st (47.04) St. Peter
Senior Boys
100-metres 1st (11.16) Eliezer Adjibi, Louis-Riel
400-metres 1st (51.35) Mahad Ali, Louis-Riel
400-metres 6th (53.72) Quinn Lyness, SWL
800-metres 2nd (1:59.52) Mahad Ali, Louis-Riel
800-metres 4th (2:02.62) Quinn Lyness, SWL
1500-metres 3rd (4:17.38) Jonathan Rioux, Louis-Riel
1500-metres 7th (4:21.50) Shane Thomas, St. Peter
3000-metres 3rd (9:22.65) Andre Alie-Lamarche, Gloucester
3000-metres 4th (9:32.12) Jonathan Rioux, Louis-Riel
400-metre hurdles 4th (1:02.00) Quinn Lyness, SWL
High Jump 3rd (1.85m) Solomon Davidson, SWL
High Jump 5th (1.70m) Eliezer Adjibi, Louis Riel
Long Jump 1st (6.74m) Christopher Guessan, St. Matthew
Long Jump 3rd (6.12m) Japhet Divita, Louis-Riel
Long Jump 8th (5.89m) Katley Joseph, St. Matthew
Triple Jump 1st (12.90m) Dyovany Jeudy, Louis-Riel
Triple Jump 3rd (12.77m) Kensley Eveillard, Gisele-Lalonde
Triple Jump 4th (12.49m) Japhet Divita, Louis-Riel
2000-metre steeplechase 1st (6:16.99) Andre Alie-Lamarche, Gloucester
4x100 Relay 1st (44.99) Louis-Riel
4x400 Relay 4th (3:3.03) Louis-Riel
Midget Girls
100-metres 6th (13.66) Amélie Lemay, Béatrice-Desloges
200-metres 6th (28.57) Amélie Lemay, Béatrice-Desloges
400-metres 5th (1:04.95) Taya Toulouse, Louis-Riel
400-metres 8th (1:09.82) Sophie Whiting, SWL
800-metres 4th (2:37.12) Véronique Bolduc, Béatrice-Desloges
1500-metres 1st (5:13.43) Katie Newlove, St. Peter
1500-metres 8th (5:30.53) Véronique Bolduc, Béatrice-Desloges
1500-metres 14th (5:55.25) Sophie Whiting, SWL
3000-metres 2nd (11:00.28) Katie Newlove, St. Peter
300-metre hurdles 9th (57.55) Angela Chen, Colonel By
300-metre hurdles 10th (59.68) Piper Parkinson, Colonel By
High Jump 4th (1.40) Victoria Ufholz, Béatrice-Desloges
High Jump 5th (1.35) Taya Toulouse, Louis-Riel
High Jump 11th (1.25) Piper Parkinson, Colonel By
Long Jump 7th (4.48) Sharon Peng, Colonel By
Long Jump 9th (4.28) Maggie McKirdy, Gloucester
Long Jump 12th (4.12) Binta Zubair, St. Peter
Triple Jump 6th (9.25) Angela Chen, Colonel By
Triple Jump 7th (9.20) Krista Koshy, Colonel By
Javelin 1st (30.83m) Jordan Hicks, Gloucester
Javelin 9th (19.86m) Jessica Glass, SWL
4x100 Relay 2nd (55.72) Béatrice-Desloges
4x100 Relay 4th (56.80) Colonel By
Junior Girls
100-metres 1st (12.30) Kayla Vieux, Louis-Riel
100-metres 4th (13.08) Andreanne Saint-Sauveur, Gisèle-Lalonde
200-metres 4th (27.18) Kayla Vieux, Louis-Riel
400-metres 7th (1:06.84) Katherine Petrut, Louis-Riel
800-metres 2nd (2:34.07) Erika Johnson, Colonel By
1500-metres 7th (5:28.85) Erika Johnson, Colonel By
80-metre hurdles 2nd (12.65) Kadiatou Wann, Louis Riel
80-metre hurdles 3rd (12.67) Andreanne Saint-Sauveur, Gisèle-Lalonde
300-metre hurdles 6th (52.05) Brianna Lu, Colonel By
300-metre hurdles 7th (52.45) Eleni Pantieras, Colonel By
High Jump 1st (1.48m) Kadiatou Wann, Louis Riel
High Jump 2nd (1.48m) Erika Johnson, Colonel By
High Jump 6th (1.25m) Allie Cui, Colonel By
Long Jump 1st (5.13) Kadiatou Wann, Louis Riel
Long Jump 4th (4.75) Dana Dufour, Gloucester
Long Jump 10th (4.38) Amelia Bayelanga, Louis Riel
Triple Jump 1st (10.54) Brianna Lu, Colonel By
Triple Jump 8th (9.09m) Allie Cui, Colonel By
Triple Jump 9th (8.96m) Josephine Ding, Colonel By
Shot Put 8th (8.60m) Qivvzah Poullard, St. Peter
Discus 10th (16.79m) Charlotte Jerome, Colonel By
Javelin 2nd (27.72m) Dana Dufour, Gloucester
Javelin 6th (19.60m) Yaingy Bani , St. Peter
4x100 Relay 1st (51.26) Louis-Riel

Senior Girls
100-metres 2nd (12:34) Anesi Anyia, St. Peter
200-metres 3rd (25:36) Anesi Anyia, St. Peter
1500-metres 3rd (5:08.25) Marin Scotten, SWL
1500-metres 4th (5:09.32) Mollie Soroczan-Wright, Colonel By
1500-metres 10th (5:35.87) Renata Kingston, Louis-Riel
3000-metres 3rd (11:18.89) Mollie Soroczan-Wright, Colonel By
400-metre hurdles 9th (1:15:51) Sierra Smith, Louis-Riel
400-metre hurdles 10th (1:17:25) Sarah Brazeau, Béatrice-Desloges
High Jump 7th (1.40m) Alexandra Korolev, Colonel By
High Jump 9th (1.35m) Vanessa Laporte, Louis-Riel
High Jump 11th (1.30m) Linda Muteba, Béatrice-Desloges
Long Jump 4th (4.99m) Annabelle Gagne, Louis-Riel
Long Jump 6th (4.73m) Stephanie Lalonde, Louis-Riel
Long Jump 7th (4.72m) Qiyu Zhou, Colonel By
Triple Jump 5th (9.88m) Stephanie Lalonde, Louis-Riel
Triple Jump 6th (9.57m) Qiyu Zhou, Colonel By
Pole Vault 1st (3.40m) Caroline Poirier, Louis-Riel
Pole Vault 2nd (3.00m) Annabelle Gagne, Louis-Riel
Shot Put 5th (8.88m) Mackenzie Glenn, SWL
Discus 5th (22.91m) Kaitlyn Demoree, Colonel By
Javelin 1st (36.10m) Sophie Barber, Gloucester
1500-metre steeplechase 4th (5:24.82) Marin Scotten, SWL
(This story was made possible thanks to the generous support of our local business partners.)
Visit www.orleansonline.ca's main page