Tony Sullivan and Bob Presland, aka the Saltwater Santas, have done it again. The pair, along with Tony's wife Jocelyne, have managed to raise another $15,000 for local charities through Sullivan's Sugar Creek Way Christmas display.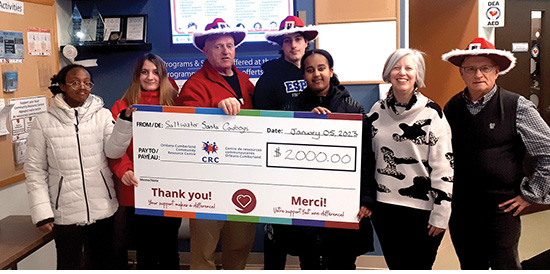 Tony Sullivan, middle with red jacket, and Bob Presland (far right) present a cheque for $2,000 to the Orléans-Cumberland Community Resource Centre. PHOTO SUPPLIED
Sullivan began collecting donations from motorists and passersby during the first week-end in December and was outside every night until Jan. 1. He was often joined by Presland, while Jocelyne put together loot bags for seniors who visited by the bus load. On weekends, when the traffic was the heaviest, they were joined by student volunteers.
As was the case last year, Sullivan and Presland gave each person who made a dona-tion a Swiss Delice chocolate from Costco.
By the time the last person had made a contribution on Jan. 1, they had given away more than 15,000 chocolates, or one chocolate for every dollar they received.
Sullivan says they would have raised even more money if not for a pair of back-to-back snowstorms on Dec. 17 and Dec. 22 as well as heavy rain on Christmas Eve.
"Those were our three best nights last year," explains Sullivan.
Still, $15,000 is quite a haul. The money raised has already been distributed to a number of local charities – $6,000 went to the Ottawa Food Bank, $2,000 went to the Orléans-Cumberland Community Resource Centre, $2,000 went to the Ottawa Mission and $1,000 each went to the Ottawa Heart Institute, the Children's Hospital of Eastern Ontario, the Shepherds of Good Hope and a food bank in Gatineau where Jocelyn's mother is from.
All told, the Saltwater Santas have raised over $33,000 for local charities in the past two years – a number that even Sullivan finds hard to believe.
"I just can't get over how generous people can be. It's been overwhelming" says Sullivan citing one situation in which a total stranger opened up his wallet and gave him $100 after Sullivan brought a loot bag to a woman working at a nearby gas station who he knew was going through some financial hardship.
"When I told the guy about what we were doing, he just opened up his wallet and handed me $100," says Sullivan.
The name "Saltwater Santas" comes from the fact that Sullivan is originally from Newfoundland. The two men met each other during a Canada Post hockey tournament and they've been fast friends ever since. (They're also both former "Posties".)
As for whether they plan to do it all next, Sullivan says he has to build a skating rink for his granddaughter first. "We'll take it one year at a time," says Sullivan.