Tuesday was swearing-in day for Ottawa's newly-elected city councillors. It was a day to celebrate with their spouses and family members whose lives were put on hold during the election campaign and who could now celebrate the fruits of their labour and sacrifices.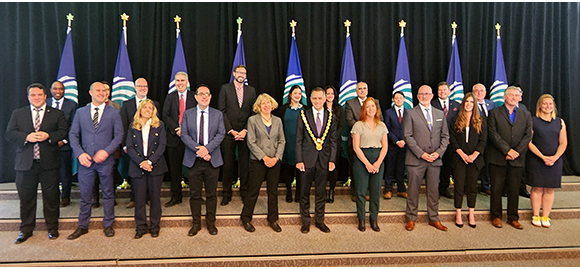 During a modest reception that was held following the swearing-in ceremony, the thoughts of a number of councillors had already turned to the job ahead, including the thoughts of at least three of the four east end councillors who were all comfortably
re-elected. (Orléans West-Innes councillor Laura Dudas is away on a trip that had been planned months in advance before the inauguration ceremony was moved up from its traditional date in early December.)
The first order of business will be to populate the city's various standing committees and appoint the committee chairs.
As a councillor representing one of the fastest growing wards in the city, Orléans South-Navan councillor Catherine Kitts is hoping to get on the planning and transportation committees.
"There's no question that making sure our transportation and road networks keep up with our growth while maintaining public safety is one of the biggest issues in the ward, if not the biggest issue," said Kitts, who was thrilled at the chance of attending her first post-pandemic inauguration ceremony.
"In 2020, I was sworn-in in a room with no one else there. Because of the pandemic my family had to watch it on zoom. So to have the chance to be sworn-in with everybody else and have Shane (her fiancé) here is pretty special."
As the longest serving member of council, along with Kanata councillor Alan Hubley, Tuesday's inauguration ceremony was old hat for Beacon Hill-Cyrville councillor Tim Tierney who was first elected in 2010 along with Hubley.
"I look forward to bringing a lot of knowledge and history to the council table and to make sure the decisions made by the new council are reflective of the things that have happened in the past," Tierney said after taking the oath of office for the fourth time.
As the one of the deans of the new council Tierney is expected to be given a prominent seat as chair of one of the city's key committees. Just which committee he would prefer to chair, Tierney refuses to say, only that he will serve on whatever committee the new mayor, Mark Sutcliffe, decides.
Orléans South-Cumberland councillor Matt Luloff already has his eye on the Library Board which he chaired during the last term of council.
All three councillors plan to meet as a group as soon as Laura Dudas returns from her trip abroad. Together they have become known as the "Eastern Block". It's a dynamic they plan to take full advantage of the new council, half of which is made up of new members.
"With so many new faces around the table I think having a corner of the city where there's a lot of experience will benefit the east," says Kitts. "We've always worked really well together. We sort of hash things out in the background and come together so that we can put forward a united front and I think its really helped us in getting things done for our constituents."
The first working council meeting still has to be scheduled, likely during the first week of December.