It appears far too many drivers in Cumberland and Orléans are continuing to play a deadly game racing past school buses while the bus drivers are picking up and dropping off their young passengers.
According to M.L. Bradley co-owner Kathleen Both, the number of drivers playing Russian roulette with children's lives is back on the rise this school year after being on the decline for several years following the launch of the "I Stop, You Stop" campaign in 2016. That's the same year M.L. Bradley and former Cumberland Ward councillor Stephen Blais joined forces to launch a stop-arm camera pilot project.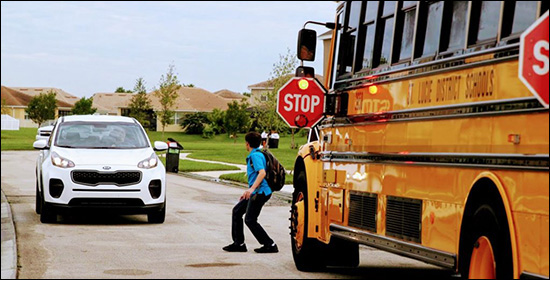 The project eventually resulted in the City of Ottawa purchasing six camera systems in 2019 that are rotated among the hundreds of school buses currently operating in the city.
The fact that drivers could never know which school bus had the system installed on it was supposed to act as a deterrent, and for the better part of the 2019-2020 school year it did.
Unfortunately, a lot of drivers have a short-term memory, not only of the stop-arm cameras, but of the law prohibiting the passing of a school bus in either direction once they turn on their flashing lights and extend the stop arm. The fine for doing so is $490, which is sent to the owner of the vehicle because the cameras can only capture the license plate.
Both says M.L. Bradley's drivers have been reporting a steady increase in cars running past their flashing lights and stop arms since the resumption of in-school classes in the fall and more recently in February.
"It was bad in the fall, but it's been even worse since in-school learning resumed," says Both.Asked which routes were of particular concern, Both says it's happening all over the east end.
"The fear is that it's not a matter of if, but when," says Both when asked about the potential for a serious accident involving a student either crossing the street to get to their bus, or walking home after they get off.
Cumberland Ward councillor Catherine Kitts says her office has received several calls from parents in both Cumberland Village and Navan who have witnessed drivers blowing past their children's school buses while they were stopped, their lights were flashing and their stops arms were extended .
Dunning Road between Wilhaven and Innes is one problem area as is Trim Road near Navan.
St. Joseph Boulevard is another problem area as is Charlemagne Boulevard. In both cases, drivers seem to be unaware of the fact that they must stop in both directions on a four lane road when a school bus lights starting flashing. The only time you don't have to stop when you are coming in the opposite direction is when there is a median dividing the four lanes.
Francine Boucher is a bus driver for M.L. Bradley whose route takes her down Princess Louise Boulevard. She's witnessed several close calls with drivers failing to stop when they should. One stop in particular has been especially jarring.
"One of my stops is just before the intersection at Clearcrest just across from Fallingbrook Elementary School," Boucher explains. "I stop just before the stop sign heading northbound and cars coming in the opposite direction will stop at the inter-section and then continue on and drive past my bus and completely ignore the flashing lights and the stop arm. I think it's because they're day dreaming, or they're simply in a hurry. Either way it's no excuse."
Kitts plans to bring the matter up with the head of the city's Safe Roads program to see what can be done either through enforcement, or a beefed up public infor-mation campaign.