Here we grow again. During their regular meeting last Wednesday, Ottawa city council approved plans to add three parcels of land to the city's Official Plan for the future development of Orléans.
The first parcel of land would see Orléans South expanded further south from the current Avalon sub-division to Wall Road between Trim Road and Tenth Line Road. The area is roughly 230 hectares in size.
The second parcel of land is located on the southeast corner of Innes and Trim Roads, south of Millennium Park, and covers approximately 45 hectares.
The third parcel of land is adjacent to Cox County Road between Wilhaven Drive and Jonquille Way. It extends west 0.7 km and covers approximately 32 hectares.
All three parcels have been designated as Category 1 lands which means they meet the city's criteria and suitability and what's referred to as the Five Big Moves for future development and expansion – growth, mobility, urban design, resiliency and economy.
The three parcels of land are part of an overall proposal to expand the city's urban boundary by 836 hectares to be included in the city's revised Official Plan. Other designated areas for expansion are located in South March, Barrhaven South, Stittsville, Riverside South and Leitrim.
It is worth noting that it could take 10-30 years to build out the designated parcels of land if approved.
City council also gave a green light to consider adding 445 hectares of land near Carlsbad Springs to the new Official Plan.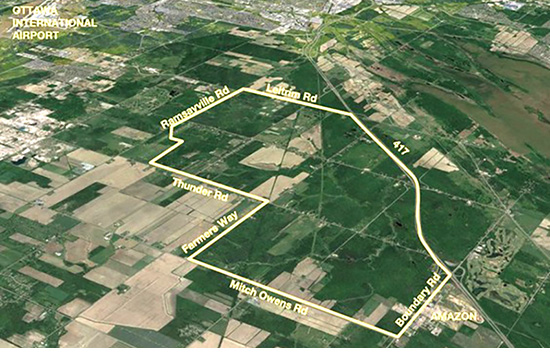 The land was purchased from the province by the Algonquins of Ontario (AOO) for the purpose of creating a model community of up to 100,000. Referred as the Tewin land, it was added to the list of land parcels to be considered for inclusion of the new Official Plan in part as a means of reconciliation.
The word "reconciliation" touched off a firestorm of opposition from Algonquin tribes in Québec who were upset over being left out of the discussions between the city and AOO.
During last week's city council debate, Ottawa Mayor Jim Watson said consider-ation of the Tewin land had nothing to do with reconciliation, rather it was simply a land development proposal.
"The fact that the Algonquins of Ontario own and control these lands is not in dispute. The Tewin land was sold to AOO by the province of Ontario. They have the right to develop these lands to create wealth for their community. It is not council's role to adjudicate an internal disagreement between the Algonquin family of communities," said Watson.
One of the main reasons given to study the Tewin proposal is that if proved viable, it would eliminate the custom of expanding existing communities one small parcel of land at a time. It also gives the AOO and their partners, the Taggart Group, the opportunity to design a community that is fundamentally distinct and can be built on new planning principles.
City planning staff did their best to alleviate the concern on the part of a handful of councillors that approving the addition of the Tewin land for consideration would be akin to rubber-stamping the development.
Staff's position was echoed by Innes Ward councillor Laura Dudas.
"We're giving staff a direction. This isn't a done deal," said Dudas. "This isn't 100 per cent what we're going to have to live with. We're telling staff to go back and look into what this is going to cost and how it's going to fit in with our vision of the city in terms of the east end it fits in."
"I believe it fits in well," she added.
Staff will do their due diligence in analyz-ing the Tewin proposal and report back to the planning and agriculture and rural affairs committees in the fall, after which time there will be an extensive public consultation process. Even if it's included in the new Official Plan, it will likely be 20-30 years before development of the Tewin land would take place.
In another move, city council decided to do away with the designation on a so-called "Gold Belt" in the new Official Plan.
The proposal which only came to light two weeks ago, drew immediate fire from farmers, especially in the east end, who saw it as further overreach on their land which is already protected as agriculture under existing zoning designations.