Orléans voters will be heading to the polls to elect a new member of provincial parliament on Thursday, Feb. 27.
The date was announced earlier today by Premier Doug Ford who had until March 9 to hold a by-election, which is exactly six months after former Orléans MPP Marie-France Lalonde stepped down to successfully run for the local federal seat.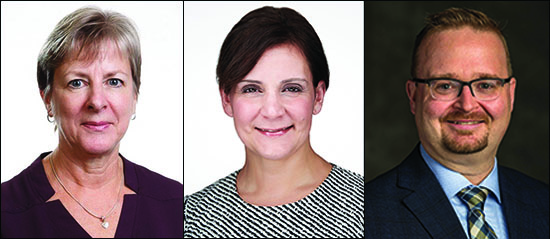 Orléans by-election candidates (r to l) Manon Parrot, Natalie Montgomery and Stephen Blais. File photos
All three major parties have been gearing up for the by-election for weeks. Both the Conservatives and the NDP had campaign kick-off events earlier this month in anticipation of an election call.
The Conservatives will be represented by Natalie Montgomery who is the wife of former Conservative candidate Cameron Montgomery who was unable to unseat former Orléans MPP Marie-France Lalonde in the last provincial election in 2018.
Fluent in four different languages – besides English and French, Montgomery speaks Greek and Macedonian – she and her husband are the proud parents of a five-year-old son who was the result of multiple fertility treatments, which also happens to be her specialty.
Montgomery holds a Masters of Arts Degree in Health Communication with Honours and she is a PhD candidate in population health. She completed her under-graduate degree in Sociology and Political Science at the University of Toronto, and she has worked in communications at all three levels of government and crown agencies including the Canada Pension Plan Investment Board and the former Ontario Power Authority.
The NDO candidate is Manon Parrot who is the daughter of former Canadian Union of Postal Workers presicent Jean-Claude Parrot.
A 35-year resident of Orléans, Parrot has worked as a translator for CUPW for the past 37 years. She is running to give Orléans voters an opportunity to elect a "grassroots" MPP who will spend a good deal of her time consulting with residents about the issues that are important to them.
Both Montgomery and Parrot will have their work cut for them in trying to wrestle the riding away from the Liberals who have held the seat since 2003 when former Liberal MPP Phil McNeely unpset then Conservative cabinet minister and former Cumberland mayor Brian Coburn.
The LIberal candidate this time around is veteran Cumberland Ward city councillor Stephen Blais.
Blais is a long-time Liberal Party supporter who first ran for politics in 2006 when he won a seat on the Ottawa Separate School Board. He then ran against former Cumberland Ward city councillor Rob Jellet in 2010 and pulled off a major upset.
Since then he has made his mark as chair of the Ottawa Transit Commission. He was also successful in getting Environmental Assessments to widen Hwy 174 and to extend Light Rail Transit to Trim Road and he secured $8 million to expand Millennium Park among other things.
In the 2018 provincial election, 24,972 people voted for Marie-France Lalonde, 22,509 voted for Cameron Montgomery and 14,003 voted for NDP candidate Barbara Zarbroni.
(This story was made possible thanks to the generous support of our local business partners.)