The staff and students at Sir Wilfrid Laurier Secondary School on Tenth Line Road are once again taking part in the Ottawa Toy Mountain campaign with a Toy Mountain of their own set up in the school rotunda.
The Sir Wilfrid Laurier Toy Mountain campaign was officially kicked off on Dec. 13 with a brief performance of Christmas carols by the school's concert band followed by a few words from school principal Nancy Girozan, three of the school's four student council co-presidents – the fourth co-president was performing in the band – and Orléans Ward councillor Matt Luloff.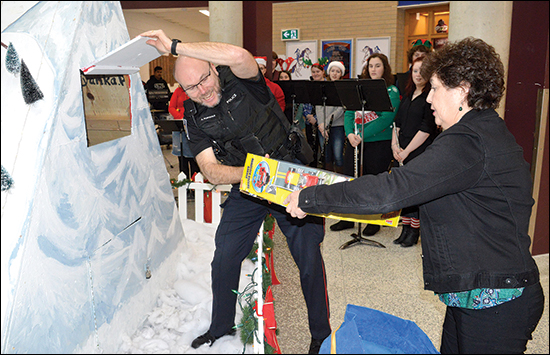 Constable Al Porteus takes a present from Sir Wilfrid Laurier Secondary School principal Nancy Girozan before placing it in the Toy Mountain located in the school's rotunda. FRED SHERWIN PHOTO
"Being able to give a toy to kids who wouldn't otherwise get a gift on Christmas is such a good thing. It's also really easy and it makes a world of difference to families who are struggling financially," said student council co-president Kazia Masoukas.
The Toy Mountain display was put together by the school custodian and students in the home construction class. Matt Luloff congratulated the students for carrying on the Toy Mountain tradi-tion at the school.
"This is such a wonderful thing that you guys do every year. We live in a very well off community her in Orléans and some people would be surprised to know that over 600 families that use our local foodback every single month," explained the councillor.
"So despite the fact that we are so prosperous here in Orléans we want to make sure that no family is left behind and that's where you guys come in with your Toy Mountain. What you are doing is really beautiful and I want to thank you all for doing it."
The honour of donating the first toy was given to Ottawa Police Services Cst. Al Porteus.
While the majority of the toys that end up in the Mountain are donated by the staff and students, members of the public can drop a new unwrapped toy off at the school between 8:30 a.m and 3 p.m. until Friday, Dec. 20 when the toys will be taken to the Toy Mountain distribution centre downtown.
The Toy Mountain Campaign is a joint initiative of CTV and the Salvation Army begun 24 years ago. Last year alone, over 25,000 children in the Ottawa area received a toy at Christmas thanks to the effort of hundreds of volunteers, businesses and organizations that take part in the campaign.
Chances are some of those children live in your community or on your street. So donate a toy if you can and help brighten a child's Christmas this year.
(This story was made possible thanks to the generous support of our local business partners.)