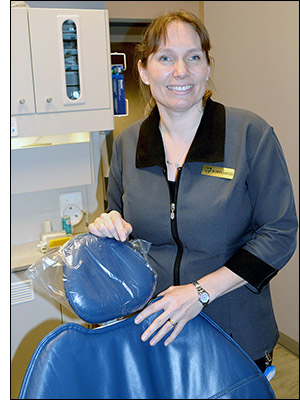 Dr. Chantal Plant has been improving her patients' smiles for the past 16 years. STAR PHOTO
STAR STAFF – If you are like most people, you probably think that a new smile requires having to wear bulky braces for several years or paying thousands of dollars for dental implants. And while that may have been the case 10 or 15 years ago, advances in dentistry and orthodontics means patients no longer have to settle for stained, chipped or misshapen teeth.
At the Blackburn Shoppes Dental Centre, they can help their patients get their smile back without breaking the bank. Even the most subtle change in your smile can make a dramatic difference in the way you look and feel about yourself.
It all starts with that first exam and oral assessment. With the benefit of x-rays, the Blackburn Shoppes Dental team, led by Dr. Chantal Plant, can establish a game plan, taking into consideration your insurance coverage to begin the process of improving your smile.
It could be as simple as a bonding procedure, enamel re-shaping or being fitted with an aligner to close a gap with the benefit of Invisalign, or in more severe circumstances, being fitted with veneers or crowns.
Veneers are thin custom-made shells designed to cover the front part of your teeth. Made of tooth-coloured porcelain, veneers are used to treat spaces between teeth and teeth that are chipped or warn, permanently stained, poorly shaped or slightly crooked.
In severe cases, a dentist might refer their patients to an orthodontist to be fitted with braces. But braces can often be avoided by using clear aligners such as Invisalign or other alternatives.
Another way to improve your smile might be to apply a whitener, followed by some simple bonding on your own natural teeth. This is a low-cost option that can be very aesthetic.
In many cases, a patient's smile can be improved by a simple procedure.
"Sometimes people want to improve their smile, but they think it's going to cost a lot of money, but quite often you can make a simple little change like maybe just closing a gap, or fixing a tooth that is a little crooked, you can just apply a little bonding." says Dr. Plant.
The first step is an assessment. From there, Dr. Plant and her team work with the patient to come up with a plan that can be phased in over time depending on the resources they have at their disposal.
"We always present the whole picture but we explain to them that we will start with the urgent dental work and progress slowly so that it doesn't feel too overwhelming," says Dr. Plant. "So we suggest to do things in phases."
Dr. Plant and the entire team at the Blackburn Shoppes Dental Centre have earned a reputation for treating their patients with the utmost respect and patience which is why they get so many referrals and returning patients.
"Some of the kids I treated 10 and 15 years ago are now bringing their kids to come and see us. It is very rewarding."
The Blackburn Shoppes Dental Centre is located in the Blackburn Shoppes Plaza right beside Subway at Bearbrook and Innes. You can find their website at www.ottawafamilydentist.com.
(This story was made possible thanks to the generous support of our local business partners.)