Picture of the tornado as it approaches Chatelaine Village north of Hwy. 174. LISA FULLER PHOTO
Orléans residents living in Orléans communities of Chatelaine Village and Riverwalk had their Sunday afternoon interrupted by a tornado just after 5:45 p.m. that uprooted hundreds of trees, tore shingles off roofs, ripped fences and sheds apart and damaged several cars.
Miraculously no one was hurt during the incident which lasted about 10 minutes and structural damage to homes was limited to a few broken windows and one severely damaged roof.
The tornado began to form above the Convent Glen Shopping Centre on Jeanne d'Arc Blvd. and eventually touched down behind 857 and 859 Willow Ave., just east of Champlain Street, severely damaging their fence and several trees in their back yard.
"I started seeing leaves flying around and then the fence started shaken and the sound was unbelievable it was so loud like a jet engine. It lasted about 15 or 20 seconds," said homeowner Richard Proulx who lives at 857 Willow Ave.
The tornado then traveled east causing significant tree damage on Borland Drive. The worst hit house was 915 Borland Dr. which lost part of its roof.
From Borland, the tornado ripped through Marsha and Big Bird Parks, uprooting dozens of mature trees and causing extensive damage to trees and fencing along Lawnsberry and Mockingbird Drives which border the two parks.

A downed tree blocks the entrance to Marsha Park in Chatelaine Village. FRED SHERWIN PHOTO
After ripping through Big Bird Park, the tornado jumped over Tenth Line Road and blew past the Alavida La Promenade Retirement Residence before hitting Riverwalk.
Susanne Dawson was having a cigarette outside the retirement residence after visiting with her mother when she saw the twister heading straight towards her.
"There was actually two funnel clouds and another white one that looked like it was trying to form. I got so scared that I ran back into the building until they passed," said Dawson.
The damage along Wincanton Drive and Lawlor Crescent was extensive. At least 70 per cent of the trees were either snapped in half or uprooted. Several of the trees fell on cars that were parked in their driveways. But other than a bunch of shingles getting blown off some roofs, the houses were left relatively unscathed.
Peter Schulz was in his basement watching a movie when the tornado hit. After it passed he had to go out the back door because the front door was blocked by a fallen tree which caved in the back of his Hyundai Elantra.
"It's insane. All the trees are down. You couldn't even walk out here," said Schulz.
Within minutes of the tornado, residents were already outside cleaning up the damage with chainsaws. They were soon joined by professionals like Gerry Vlug from ArborXperts, who came as soon as he learned of the location to donate his time and expertise.
Michelle Santerre lost a tree whcih had been in her front yard on Lawlor Crescent for the past 23 years. It was completely uprooted and landed on the trunk of her neighbour's car.
Santerre was on the phone with her sister when the tornado hit. "At first I saw my neigbour's apple tree fall on my fence and I started crying and saying a lot of words I can't repeat," said Santerre. "It's so sad. It's quite disheartening to lose so many trees, but that's Mother Nature."
"You hear about tornadoes and you see them on TV, but you never think they're going to happen here in Orléans," added Santerre.
From Riverwalk, the tornado damaged the roofs on several three-storey condo buildings on Prestige Circle. It then traveled along the Ottawa River turning into a water spout.
It was last seen on the Ottawa River near Cumberland Village heading north east.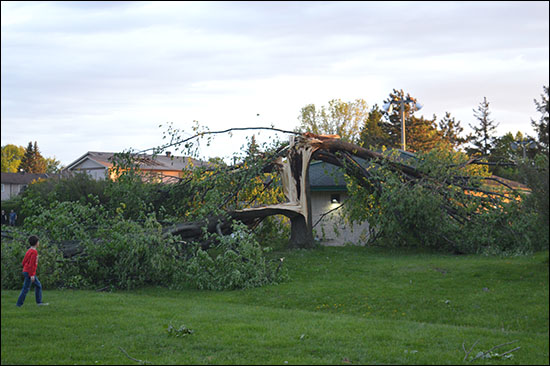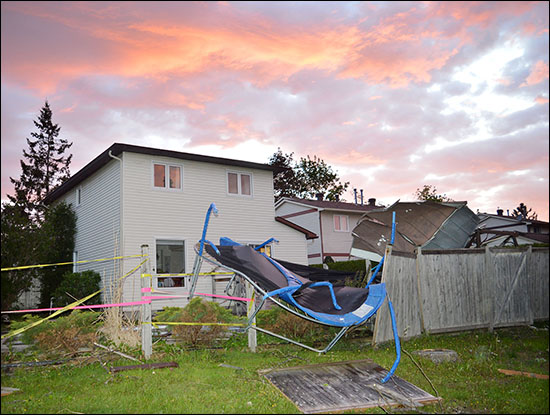 (This story was made possible thanks to the generous support of our local business partners.)