Orléans councillor-elect honours commitment to fallen comrade-in-arms
By Fred Sherwin
November 10, 2018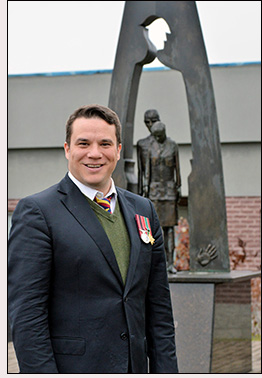 Orléans Ward councillor-elect Matthew Luloff will be attending Remebrance Day services in Windosr this year in honour of his friend Pte. Andrew Grenon who died in Afghanistan in 2008, just as he has done in years past. Fred Sherwin/Photo
You can forgive Matthew Luloff for not attending the Remembrance Day ceremony at the Orléans Legion this year; the councillor-elect has a previously scheduled engagement.
He will be in Windsor, marking the solemn occasion with the family of fallen comrade Andrew Grenon who was killed during an ambush while the two men were serving in Afghanistan in September, 2008.
"There are a few of us who served together that go to Windsor every year. We visit with his mother Teresa and we spend time together just catching up," says Luloff. "Drew and my other buddy Matt picked me out of a bunch of new guys when I joined the Princess Patricia's and took me under their wing. We were all pretty tight."
After graduating from St. Matthew High School in 2002, Luloff served four years in the army reserves that included a stint with the Governor Generals Foot Guards during which he took part in the Changing of the Guard ceremonies on Parliament Hill and stood guard outside the Governor General's residence at Rideau Hall.
In 2005, he put in for a transfer to the regular force and was assigned to the Princess Patricia's 2nd Battalion based out of CFB Shilo in Manitoba a year later.
As soon as Luloff finished his basic training, he joined the battalion which was already preparing for a planned eight-month deployment to Afghanistan in February 2008.
Luloff's platoon was assigned to a combat outpost in Kandahar province where they performed almost daily patrols during which they often came under enemy fire.
He was assigned to the platoon to replace Pte. Terry Street, who was killed when his armoured vehicle hit an improvised explosive device, or IED.
It should be noted that 13 members of the Princess Patricia's 2nd Battalion were killed during the unit's eight-month tour in Afghanistan between January and September 2008.
Luloff's role with the platoon was reconnaissance and navigation.
"My job was to map out the patrol routes and guide the patrols along the way."
The patrols would often encounter horseshoe ambushes set up by the Taliban forces in the area and have to fight their way out. Nearly half of the casualties suffered by the battalion were a result of direct fire from the enemy, the other half were killed by IEDs.
Cpl. Mike Seggie and Pte. Chad Horn were killed with Luloff's friend Andrew Grenon when a rocket hit their vehicle during an ambush on Sept. 3, 2008. Five other soldiers were seriously injured in the incident and might have died if not for the skill and bravery of the medics who served with the battalion and treated dozens of wounded soldiers during their tour of duty.
"The medics were absolutely incredible. I mean, I can't say enough about them. They were amazing," lauds Luloff, who is proud of the fact that no one was injured or lost during a patrol which he was involved in planning.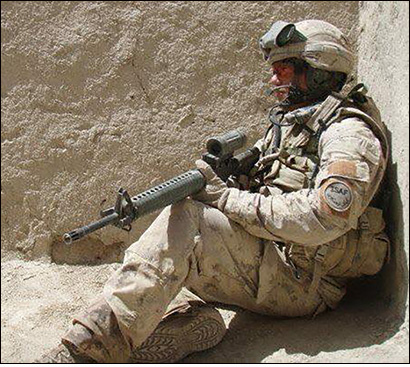 Councillot-elect Matt Luloff served in Afghanistan from January to Sepetember, 2018. PHOTO SUPPLIED
Tragedy would eventually strike days before the battalion was scheduled to return to Canada and just four days after Grenon, Seggie and Horn were killed.
Luloff was travelling with a convoy making the final trip from their combat outpost base to the main Canadian base in Kandahar City where they would begin their post-deployment leave when the vehicle carrying the section commander, Sgt. Scott Shipway, was hit by an IED, killing him instantly.
Luloff was driving immediately behind Shipway's vehicle when the IED was set off remotely.
"I could see the pavement ripple up and the LAV flip over and land upside down. Shipway was waist up out of the turret directing the convoy and was killed when it landed," says Luloff.
On any other day, Luloff would have been driving for the sergeant.
"It was the first time I hadn't driven for him for months. I had been rotated back to my original platoon just days before which is why I wasn't driving for him when he got hit," explains Luloff.
Sgt. Shipway had been helping Luloff, deal with the psychological impact of Grenon's death just days before he, himself, was killed. To make matters even worse, Luloff could very well have been driving Shipway's vehicle when it was hit.
Even though Shipway's driver wasn't killed in the attack, he was seriously injured.
Luloff initially dealt with the dual tragedies by drinking and kibitzing with his fellow soldiers all of whom were anxious to get back home. It wasn't until months later that he realized he had a problem.
"It didn't hit me until months after I got back," says Luloff. Once we got back to Shiloh we all went on leave. I came back home to Ottawa, saw my family, visited with friends and then I came back to Shilo and that's when it finally hit me. That sort of mental illness creeps up on you and slowly builds and when I got back to Shilo I finally put up my hand and said I need help."
Diagnosed with Post Traumatic Stress Disorder (PTSD), Luloff elected not to renew his contract with the military and was eventually given his medical release in March 2009.
Luloff came back to Ottawa determined to be a champion for mental health services for military veterans which has been his life mission for the past nine years. He also studied public affairs and policy management at Carleton University with an eye to work on veterans issues.
Since leaving the military, Luloff has stayed in constant touch with his old buddies who get together whenever they can, especially on Remembrance Day when they gather in Windsor to be with Drew Grenon's mother Teresa.
"Remembrance Day to me is a time to celebrate the lives of the people who have passed, and the lives of the people who I know personally who have passed – remembering them and supporting their families. We spend the entire day with them starting with the ceremony in the morning," says Luloff, who plans to attend the local Remembrance Day ceremony next year. "I'm sure they will understand."
(This story was made possible thanks to the generous support of our local business partners.)