(Posted 9:30 a.m., Aug. 13)
Rain a welcome sight at this year's Navan Fair
By Fred Sherwin
OrléansOnline.ca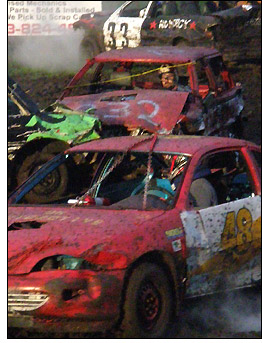 Yesterday's rain didn't have an impact on last night's demolition derby at the Navan Fair, but it is expected to play havoc with events today, including the parade. File photo
It may not be what the organizers of this year's Navan Fair were exactly hoping for, but the rain that has fallen over the last two days is a welcome sight for area farmers who have been hoping and praying for an end to the drought that has gripped Eastern Ontario for most of the summer.
Hay prices are through the roof, if you can find any, and the corn yields are expected to be way down unless there is a significant amount of rainfall over the next few days, so Friday's showers and the rain expected Saturday is a godsend. On the flip side, however, it meant a drop in Friday's attendance and fewer numbers expected on Saturday, especially for the parade.
Still the fair must go on. Attendance at the demolition derby derby, was strong both Thursday night for the four cylinder cars, and Friday night for the big boys, as was the crowd at the Chilliwack concert last night under the Domes.
The rain is expected to end in time for tonight's performances by Leah Daniels and Emerson Drive, and the midway should be in full swing.
One bright side to the wet weather is that is encourages visitors to venture into the exhibit building where the hard work of this year's horticulturists, crafters and bakers can be seen.
This year's Homecraft champion is Lucy Mulder, while Blackburn Hamlet resident John Peddie won the Floriculture competition for the third year in a row thanks to his prize-winning roses and dahlias.
Kelly Sirvin came in second in the Floriculture competition despite taking home top honors in the gladiola and floral arrangement categories.
This year's Baking Queen is once again Dominique Deschamp from Sasfield, while the Baking Princess is Victoria Coté Da Silva who was able to compete in the senior age group for the first time after several years of success in the junior division.
The Navan Fair wraps up tomorrow with the Western Horse Show in the Navan Arena at 10 a.m.; the Horse Pull at 11 a.m.; and a concert under the Domes featuring the River Town Saints and Jordan McIntosh at 1 p.m. The gates open at 8 a.m., however, the midway only runs from 11 a.m. to 5:30 p.m. For more information visit www.navanfair.com.
(This story was made possible thanks to their generous support of our local business partners.)
Visit www.orleansonline.ca's main page