(Posted 9 a.m., March 8)
Stephen Blais discusses surviving heart attack in CTV interview
By Fred Sherwin
Orléans Online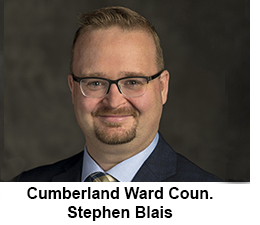 Cumberland Coun. Stephen Blais gave his first interview on Thursday in which he discussed his heart attack and the long road to recovery. File photo

---
Cumberland Coun. Stephen Blais' heart attack was caused by a 90 per cent blockage in an artery in his heart that was a 'ticking time bomb'. He owes his life to a Montfort Hospital doctor who managed to revive him after his heart had stopped beating for more than an hour.
"Dr. Shamu performed CPR for somewhere between an hour and an hour and a half. He saved my life so I owe everything to him," Blais said in an interview with CJOH on Thursday.
"It does amaze me that they would work on me for that long, they would have such faith that they could bring me back and that they would put that much effort into it."
During the nearly eight minute interview, Blais spoke haltingly and wiped tears from his eyes while recounting his ordeal, the actions of medical staff at both the Montfort Hospital and the Ottawa Heart Institute, and the support of his family, especially his wife Marta who has been by his side through the whole ordeal.
Blais suffered a heart attack while working out at the Goodlife Fitness Centre in Place d'Orléans on Jan. 3.
"To be honest I don't remember much, if anything from that day. My last real memory was watching the football game the day before with my son," said Blais.
"I had my workout with my trainer. I had been working out with her for about six months or so. I went and changed and showered and on my way out I sat down for some reason, obviously I started to feel the effects of what was about to happen, and when I sat down I had a heart attack and my trainer started to perform CPR on me."
After being rushed to the Montfort Hospital where his heart was revived and his condition stabilized, Blais was transferred to the Ottawa Heart Institute where he was placed in a medically induced coma for 48 hours.
When he finally regained consciousness, the first people he saw were his wife Marta and his mother.
"I had a respiratory in, so I couldn't breath. I was physically not able to move a whole lot. It was a little confusing, but my wife and my mother were there," Blais said. "The first couple of weeks were very tough because I was on a ventilator and I couldn't talk."
In the weeks and days leading up to the heart attack, Blais says he was feeling great. He was eating better and had been working out at the Goodlife Fitness Centre with a personal trainer for nearly five months.
"I was feeling good otherwise," explained Blais. "This was not something there were signs leading up to and in talking to the doctors they believe it's a genetic issue and not a lifestyle issue. I had an artery in my heart that was very blocked and as a result my heart stopped working."
After overcoming a bout of pneumonia, he got to see his three-year-old son Stephen Jr. for the first time in nearly a month. He owes his life to the doctors and staff at the Montfort Hospital and the Ottawa Heart Institute.
"We're so fortunate to have the Heart Institute here in Ottawa. Everyone says that and you hear it all the time, but sometimes you don't realize it until you have to experience it yourself," said Blais, whose family has been a huge support as well.
"I have an absolutely amazing family. My father has been watching my son so my wife could be here every day. Other family members helping out around the house so really my family support has been amazing."
Among the highlights of Blais' recovery so far -- seeing his son for the first time and having his first sip of water.
"That first sip of water was like an oasis in the desert. It was great," said Blais.
The Cumberland councillor has just begun the road back to a full recovery after being in bed for two months.
"I've been in bed for two months so I have some physical rehab to do in terms of gaining strength in my muscle," said Blais. Then there's the ongoing process I'm going to have to do for the rest of my life because of the heart condition."
Despite suffering a heart attack and nearly dying, Blais is looking forward to getting back to work. In fact, he's in constant communication with his office staff at city hall.
"I've done a little bit of work. I've talked to my staff about some files. But we're going to be getting back up and at 'em very shortly," said Blais who has been blown away by the level of support he's received from the community.
"I can't believe how many cards, how e-mails I've received from constituents, from people I know, and from absolute complete strangers. It's been very, very heartwarming friends. My office was overblown with the amount of correspondence they received. So the community support has been phenomenal," said Blais.
You can see the entire interview at http://ottawa.ctvnews.ca.
(This story was made possible thanks to their generous support of our local business partners.)