(Updated 9 a.m., Jan. 23)
Cedar Valley Restaurant celebrating 10th anniversary
By Fred Sherwin
Orléans Online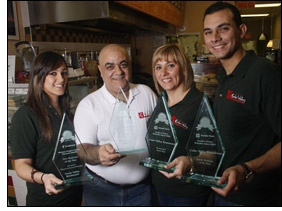 Jessica, Fadi, Marcelle and Georges Nasr are celebrating their 10th anniversary of their restaruant this year. Fred Sherwin/Photo

---
A popular Lebanese eatery is holding a customer appreciation day this Thursday to celebrate its 10th year in business.
Fadi and Marcelle Nasr opened Cedar Valley Restautant in November 2002. Since then they've managed to build a loyal clientel thanks to consistently great food, savvy marketing and a commitment to treating all their customers like family.
Before they opened Cedar Valley, Fadi used to commute to Montreal where the couple owned two restaurants. After a family meeting they decided to sell the restaurants in Montreal and open a neighbourhood eatery in the Orleans Garden Shopping Centre.
"We wanted to stay in Orleans. We loved the community and we wanted to raise our kids here," says Marcelle.
In the early years they worked long hours, six days a week, to get the business off the ground. They also got a lot of help from their two kids, Georges and Jessica, who worked in the restaurant after school.
Georges graduated from university in 2007 and now lives in Toronto where he is a senior associate at a capital management company. Jessica graduated from the University in Ottawa last year and recently got a job at the university as a student recruiter.
Georges and Jessica still help out when they can, but the lion's share of the work still falls on Marcelle and Fadi's shoulders.
One of the reasons they opened the restaurant was to give their kids a bright future. Now that Georges and Jessica have accomplished just that, Fadi and Marcelle are very thankful of the support they've received over the years from their customers.
"From day one we've had great customers. It's because of them that we are still here today, so that is why we our having a customer appreciation day," says Marcelle. "It is our way to say thank you to all of our customers, to all of our friends and our family and our staff."
The Nasr's success has resulted in five Orléans Peoples Choice Business Awards, two for Restaurant of the Year, two for Family Business of the Year and one for New Business of the Year.
Cedar Valley will be giving away sweet treats to all it's customers from 11 a.m. to 10 p.m. There will also be a cake cutting around 5:30 p.m.
(This story was made possible thanks to their generous support of our local business partners.)