(Updated 8 a.m., Jan. 22)
Cumberland Councillor Stephen Blais battling pneumonia
By Fred Sherwin
Orléans Online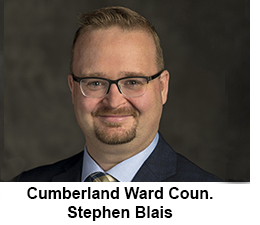 Cumberland Coun. Stephen Blais has suffered a set back in his recovery from a heart attack he suffered on Jan. 7.
Blais remains in stable condition at the Ottawa Heart Institute, but he is now battling a severe case of pneumonia which doctors are treating aggressively.
In a statement issued to media late Monday afternoon, Blais' family says the councillor continues to receive excellent medical care at the Ottawa Heart Institute. In the statement, the family says,"We know Stephen is a fighter, which strengthens our belief that he will overcome this temporary setback."
The 32-year-old city councillor suffered a heart attack while working out at the Goodlife Fitness Centre at Place d'Orléans. After being revived by paramedics he was place in a medically induced coma for two days.
He has remained under care at the Ottawa Heart Institute since being revived from the coma on Jan. 9.
(This story was made possible thanks to their generous support of our local business partners.)