(Updated 10:30 p.m., Jan. 9)
Cumberland councillor doing well after regaining consciousness
By Fred Sherwin
Orléans Online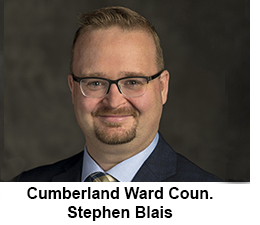 Cumberland Ward councillor Stephen Blais is responding well to treatment after regaining consciousness from a medically-induced coma on Wednesday.
Doctors revived Blais early Wednesday afternoon more than 48 hours after he was placed in a coma following emergency heart surgery on Monday.
Blais suffered a heart attack while working out at the Place d'Orléans Goodlife Fitness Centre. He momentarily lost all vital signs before paramedics were able to revive him and transport him to the Montfort Hospital where he underwent surgery before being transferred to the University of Ottawa Heart Institute.
Medically induced comas are often used to slow the patient's metabolism and assist in their recovery.
News that Blais had regained consciousness was made public in a statement released by his family.
"Stephen's wife Marta and his family are pleased to report that he has cleared another hurdle on his road to recovery," read the statement. "The family would once again like to express its sincere gratitude for the heartwarming and overwhelming support that Stephen has received from residents across Ottawa."
At just 32 years of age, Blais is one of the youngest members on city council. He and his wife Marta have a young son Stephen Jr..

(This story was made possible thanks to their generous support of our local business partners.)