(Updated 5:30 p.m., Jan. 8)
Cumberland councillor remains in induced coma following heart attack
By Fred Sherwin
Orléans Online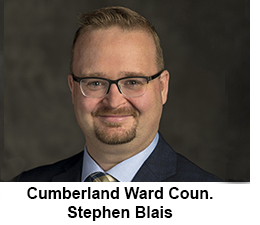 Cumberland Ward councillor Stephen Blais remains in a medically-induced coma nearly 36 hours after suffering a heart attack while working out at the Place d'Orléans Goodlife Fitness Centre on Monday.
Coun. Blais was working out at around 10:30 a.m. when he went into cardian arrest and collapsed. He was immediately attended to by Goodlife Fitness staff who performed CPR on him until paramedics arrived.
According to Montfort Hospital spokesperson Lucie Laurion, Blais had no vital signs when the paramedics first arrived.
After being revived he was initially transported to the Montfort Hospital and treated by emergency room staff before being transferred to the Ottawa Heart Institute's intensive care unit where he was placed in a medically induced coma after receiving surgery.
Medically induced comas are often used in such cases to slow the patient's metabolism and assist in their recovery.
At just 32 years of age, Blais is one of the youngest members on city council. He and his wife Marta have a young son Stephen Jr..
The Blais family released a statement Monday night thanking well-wishers for their support and said Blais looked forward to returning to work "as soon as possible."
The family also thanked firefighters, paramedics, gym employees and hospital and medical staff.

(This story was made possible thanks to their generous support of our local business partners.)