(Posted 8:30 a.m., Dec. 13)
Lacroix Source for Sports celebrates 40 years in business
By Fred Sherwin
Orléans Online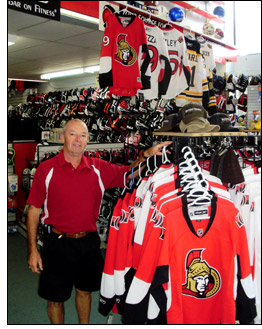 It's been 40 years since André Lacroix first opened Lacrox-Roy Sports with his friend Denis Roy in a small basement on St-Joseph Blvd. Today Lacroix Source for Sports is a local institution. Fred Sherwin/Photo

---
When André Lacroix first got into the sporting goods business with his friend Denis Roy in 1972, the population of Orléans was less than 6,000 people. There was no soccer or football or even baseball, just a handful of minor hockey teams.
For the first two years, he and his life-long operated the business out of a small basement on St, Joseph Blvd.
"We were the only business in town. You didn't have any of the big box stores like you have today," recalls Lacroix.
Over the years, Lacroix Source for Sports has become a local institution. Young mothers and fathers are still taking their kids to the St. Joseph Blvd. store for their first pair of skates or a new hockey stick.
But unlike 40 years ago when the focus was purely on hockey, Lacroix now serves a new generation of customers involved in everything from ultimate frisbee and soccer to curling and golf and everything in between.
In celebrating the store's 40th anniversary, Lacroix can understandably look back with pride on what he has been able to accomplish with the help of his dedicated staff.
A native of Embrun, Lacroix dropped out of school in Grade 9 to work full-time at his uncle's convenience store in what was then the parish of Orléans..
The hours were long and gruelling especially for a 15-year-old -- 8 a.m. to 11 p.m., seven days a week.
"One day after I turned 19, I read an ad in Le Droit where Zellers were looking for new managers. Ì told my uncle I had to go for a check-up at the doctor, but I went to the Zellers in Hull. So the guy who interviewed me said, 'Okay you can start on Tuesday'. I said are you kidding, I still have to tell my uncle. That was the worse moment of my life having to tell my uncle," says Lacroix, who went to live with the Roy family in a house on St-Joseph soon after.
"I started in the hardware department and I didn't know anything. I had to mix paint and this and that, and I did good. Then I went to help open the new Zellers in Pointe Gatineau where they made me manager of the hardware department and the sporting goods department.'
By this time, Lacroix had been living with Denis Roy and his family for a couple of years. By 1972, Lacroix was a rising star with Zellers. Just 23 years old he had helped open stores in St. Jerome and Val d'Or. Then the manager at the store in Pointe Gatineau wanted him to move to Drummondville and open a new store there, but Lacroix had other plans
"I went to Denis and said let's start a sports store in Orléans. At first he thought I was joking, but we went to the Caisse Populaire and they gave us a loan for $5,000. It was actually Réal Marcil who approved the loan. He ended up working for me for 30 years," says Lacroix.
Lacroix and Roy rented out a small basement below the Pinto Julie convenience store on St-Joseph Blvd.
"The guy who owned the place said we didn't have to pay rent for 18 months, but we had to finish the inside. So we used some of the money to finish the small basement and we spent $2,000 on merchandise.
"Our first clients were Orléans Minor Hockey and Queenswood Minor Hockey. After working in the depanneur for so many years I was well known, and Denis was well known as an athlete."
In 1976, Lacroix bought out Roy, who went on to have a successful career with Sun Life, and moved the business to a house down the road. In 1979 he expanded again.

"Joe Tourangeau and another guy had the land behind me, so they wanted to buy my place and build the first strip mall in Orléans. I rented there for four years until I moved to where the store is now 25 years ago."
The business has withstood the passing of time and the advent of big box store competitors like Sport Chek and Sports Experts, thanks to a loyal clientele and their equally loyal staff.
"We've grown with the community. We're selling equip.m.ent to the grandchildren of the people who were coming here to buy stuff for their kids when we first opened," says Lacroix, whose generosity in giving back to the community has become legendary.
Lacroix has raised over $1 million for a variety of charities mainly through his golf tournament which he started 37 years ago. The beneficiaries have ranged from individuals in need of a helping hand, to large projects such as the recent Orléans Y expansion.
Sixty-three and semi-retired, Lacroix isn't ready to hand over the keys to the store just yet. After battling cancer in 2001, he stopped working nights and weekends and now only works mornings, unless he has a golf game booked.
Asked if he had any advice for the future generation of entrepreneurs, Lacroix said the key to success is the public you serve.
"You have to be involved in the community from day one," says Lacroix, who knows better than anyone the rewards one can receive by giving back. "You have to be involved and support your community."
André Lacroix has practiced what he's preached for the past 40 years and is still going strong.
(This story was made possible thanks to the generous support of our local business partners.)