(Posted 6:30 p.m., Dec. 10)
Vintage Stock production sheds light on misunderstood former p.m.
By Fred Sherwin
Orleans Online

"Meeting Mr. Bennett" tells the story of an Ontario family plunged into poverty during the Great Depression and a young girl's encounter with former Prime Minister R.B. Bennett. Fred Sherwin/Photo

---
Robert Bedford Bennett was Canada's 11th Prime Minister. He was also Canada's richest and most reviled Prime Minister, having the misfortune of coming to power at the height of the Great Depression.
He may also be Canada's most misunderstood Prime Minister, a claim explored brilliantly by Cumberland playwrite Susan Flemming in Vintage Stock Theatre's latest production "Meeting Mr. Bennett" on this weekend at the Shenkman Arts Centre.
Flemming has a knack for recognizing historic similarities and weaving them into her plays. In "Meeting Mr. Bennett" she deftly mirrors the social and economic issues of the early 1930s with what politicians of all stripes are facing today.
For instance, during the play's opening prologue, R.B. Bennett complains about the out-of-work rabble that have set up a tent city outside the windows of his Chateau Laurier office, in clear reference to the "Occupy" movement that swept across North America.
Or how about this comparison provided by Wikipedia: "He was elected with such promise and such high expectations that he could never have met them." Remind you of a present day leader?
What is certain is that Bennett was a complex individual. He was raised on a subsistence farm in New Brunswick and put himself through law school. After graduating from Dalhousie University in Nova Scotia he rose through the social-economic ranks to become the head of the E.B. Eddy Company.
He had a total and utter disdain for layabouts and do-nothings, but a generosity that would make most modern-day philanthropists pale in comparison.
During his tenure as Prime Minister he received thousands of letters from impoverished individuals who we would help out monetarily. Historians estimate that he gave away as much as $2.5 million.
Flemming first learned about Bennett's philanthropy when she came across a book containing some of the letters Bennett received.
During the opening prologue his assistant Arthur Merriam reads through some of the letters including one from a little boy needed three dollars to buy a red wagon.
"Meeting Mr. Bennett" tells the story of Abigail Grant who wrote to Bennett, not to gain any monetary favour, but to criticize him for failing to help put people back to work. Her own father had lost his job and had to move away to try and provide for his family. The story is told through a series of flashbacks present day.
Single-father Dennis Grant has purchased Abigail's family home which she has lived in all her life. His daughter Aislinn, played by Erin MacDonald, befriends Abigail who is now 96, and invites her to visit whenever she feels like it. During one of these visits Abigail tells the young girl about the time the Prime Minister of Canada came to meet her in Linwood.
During their brief encounter, Bennett tries to explain to the younger Abigail about the diffculties the country faces in trying to dig its way out of the recession. Before he leaves, he places a $20 bill in the family's money jar without Abigail seeing him.
What makes "Meeting Mr. Bennett" such a wonderful play are the powerful performances delivered by the incredible cast. Fresh off his performance in the Orleans Young Players production of "The Nutcracker", Randy Bellini is simply superb in the lead role of R.B. Bennett.
Marni Hunt Stephens is oustanding as well as the elderly Abigail Tibbets, and Olivia Walker does a fantastic job as the younger Miss Tibbets. But the performance that stood out the most for me was Amber Boucher's portrayal of Mrs. Anne Tibbets.
Probably the surprise perfrormance on the opening night was delivered by Lynn Lebel, who plays an overbearing, and I mean that in more ways than one, real estate agent.
The rest of the talented cast includes as Jim Tanner as Arthur Merriam, David Loveridge as Dennis Grant, Nick Wilson as Thomas Tibbets, Rebecca Lebel as Mabel Tibbets, and Kayleigh Vantour as Rosie Tibbets.
Working with an outstanding script and an excellent cast must have made the job of directing "Meeting Mr. Bennett" a total joy for the play's director Arras Hopkins and producer /stage manager Louisa Hache.
Last but least, I would be remiss not to mention the brief video that is used as a backdrop in the closing scene. The balck and white clip shows a series of local actors in cameo roles portraying ordinary people from the period.
"Meeting Mr. Bennett" is on tonight at 7:30 p.m. in the Richcraft Theatre at the Shenkman Arts Centre. Tickets are $15 per person and $12 for children 13 and under.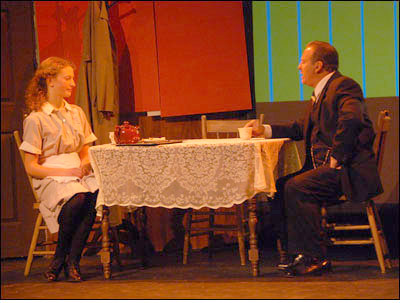 A young Abigail Tibbets talks politics at her family's kitchen table with Canada's 11th prime minister, R.B. Bennett, in Vintage Stock Theatre's production of 'Meeting Mr. Bennett'. Fred Sherwin/Photo

(This story was made possible thanks to the generous support of our local business partners.)